Many thanks to a regular Adaptistration reader (you know who you are) for sending along a link to an article from 2/21/2012 at EarRelevant, a blog by Lux Nova Press music publisher that contains a lengthy interview with Atlanta Symphony Orchestra (ASO) President, Stanley E. Romanstein. Titled In Times of Transition: A Conversation with Stanley Romanstein, it is particularly interesting when viewed through perspective of the current labor dispute.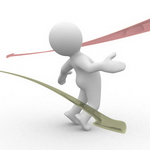 Moreover, and assuming the dispute continues to degrade, Romanstein's responses provide some tips to the much larger icebergs of disgruntlement that are likely populating the bargaining waters. Following are some excerpts from the interview so you can begin charting those waters, but I strongly encourage everyone to read the transcript.
The ASO is too focused on the orchestra musicians and not enough on the audience.
One of the things that we talked about as a staff this year was that if you look at the typical American orchestra, the orchestra itself sits right in the center and around it you have the staff, and you have the board, and you have the audience, and the community. I said, "What if we change the paradigm, and we took the orchestra and put it here, and took the audience and put it center?"

We really don't exist for the care, feeding and happiness of the orchestra – or of Robert [Spano], whom I just adore – but we really exist for the consumer, for the audience, for people who are passionate about music and who are going to come down here on a Thursday, Friday, Saturday or Sunday for that live music performance. What if all our decisions were really oriented around what they need and what they want as opposed to what we want out of them? And it was one of those, "Oh but we do that.' 'No you don't. You want to think you do, but you don't."
Musician Intransigency.
The idea that we only do concerts Thursday, Friday, Saturday at 8 p.m. in Symphony Hall is not going to sustain you very far into the future. What the players have said was, "What you're asking of us is a lot greater flexibility in when we rehearse, when we perform, where we rehearse, and where we perform." And I said, "Yeah, because that 11 o'clock concert might not be here, it might not be the best place for it. It might be another place for it."
There Will Be Change. End Of Message.
First, I have this real interest in societal transitions from one time to another, and how organizations, institutions and societies accommodate those pivotal points of progression. And you know what's going on in our industry right now. We are at a critical inflexion point for what's happening to orchestras. I think that there will be a major shift that takes place over the next eighteen months or so.
Somebody asked me as I was beginning my second year, "Are you glad you did this?" and I said, "This is a wonderful time to be in this business if you're interested in being an agent of change. If you're interested in promoting the status quo, this is a lousy time to be in this industry because the status quo isn't.

I was talking with one of our players who referenced "the industry standard" about contracts, and I said, "It's very difficult to benchmark against something that is complete transition. It's a moving target. Where are you going to aim if you're trying to hit the moving target?" Trying to talk about the industry standard as far as contracts, compensation, etc., is a really difficult thing.
Lack Of Diversity.
I talked with some of my friends from the National Black Arts Festival about this very issue. All of them said, "It's not the repertoire, it's not that we don't like Beethoven, it's not that we don't like Brahms. It's not that we can't come to Midtown. It's not the price, it's not that we need free tickets. It's that when we look at the program book, the programs, the audience and the artists on stage, we don't see people who look like us. So it makes us think we're not really the people they have in mind."
New Musician Job Descriptions And Modifying The Audition Process.
[Let's say that] we're looking for a new player, a new violinist or whatever. In the old days you simply looked for who could play the best, the fastest, the best tone, the best phrasing and so forth. Now what we are beginning to think is "What is this person's views on an orchestra member's role in education? How does this person view their connection to the community?"