Just a quick post today on the the topic of music journalism; specifically, some good articles about a recent discussion going on about whether or not the Chicago Symphony Orchestra's CSO Sounds & Stories website qualifies as what the CSO describes as a "dedicated music journalism site."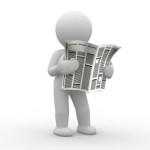 Chris Jones kicked off the heated discussion in an article in the 12/27/13 Chicago Tribune, Marty Ronish chimed in on 12/31/2013 via Scanning The Dial, and Barry Johnson rounds out the CSO specific topic with a post at Oregon Arts Watch from 1/8/2014.
The issue has certainly set off a series of strong attitudes as I've caught a number of threads via social media on the topic and none of them mince words. It will be interesting to see how all of this develops so stay tuned.