In the post economic downturn environment, it is all too easy to become the victim of detrimental group-think; musicians are overpaid, board members don't donate enough, managers should work harder etc. Even though most of us who make a living in the arts know better, it is good to see traditional media sources picking up on the dangers associated with letting this sort of detrimental thinking go unchecked. Case in point, the recent article by Rachel L. Swarns in the 4/20/14 edition of the New York Times that examines the notion of assigning value to artists.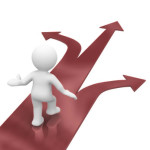 Swarns profiles a current member of the Metropolitan Opera Chorus (Met), which is timely given that the institution is embroiled in the early stages of an ugly labor dispute. But the part you don't want to miss focuses on the need to avoid stereotypical arguments on assigning value.
No one blinks when an experienced corporate manager earns a size-figure salary in [New York City]. But an opera singer? We still romanticize the image of the starving artist. We like to think that talent will eventually fill dinner plates and checking accounts.

But in real life, people who can't pay their bills often put aside their passions, starved of the training the attention and the resources they need to shine. In real life, there are rents and mortgages to consider, commuting costs and car payments, college debt and voice lessons.
The Met's current labor negotiations will undoubtedly go a long way toward testing the limits of these arguments and throughout the process you'll almost certainly hear plenty of extremist voices but throughout it all, do yourself a favor and conduct regular reality checks to question whether or not you're slipping into any of these self-defeating outlooks.
All of this reminds me of an article highlighted in a fairly recent You've Cott Mail* where an artist participating in a high school career day took a teacher to task in front of the students for suggesting that students interested in a career as an artist should maintain a backup plan. In response, the artist unapologetically questioned the teacher if she offered similar advice when any of the sessions featuring doctors or lawyers.
In the end, everyone in the field will do better if the overall public perception of art and culture improves.
* I can't remember which issue, so I don't have a reference link; if anyone does, thank you in advance for sharing.