In an interesting twist to the ongoing Atlanta Symphony Orchestra (ASO) collective bargaining agreement (CBA) negotiations, it appears that the orchestra's primary conductors (Music Director Robert Spano and Principal Guest Conductor Donald Runnicles) have decided to become involved via a joint letter to ASO's stakeholders (board, management, and musicians) outlining the pair's views on the intersection of artistic standards and sustainability.
Published by Norman Lebrecht at Slippedisc.com on 9/3/2014, the letter contains a compelling perspective on what is shaping up to be a second round of contentious concessionary bargaining.
To: The Atlanta Symphony Orchestra September 2, 2014
– The Board of Directors
– The Management
– The Musicians
Although it is neither our place nor our intent to involve ourselves directly in the collective bargaining process between musicians and management, we feel compelled to write this letter. Our doing so bears inherent risks as it may be construed as our taking sides in what again has proved to be a contentious process. We both feel bound by a sense of responsibility and deep commitment to represent and remind everyone what the ASO is all about: its high musical standards and aspirations. Indeed we are charged by contract to create and maintain it.
In the heat of the current negotiation we fear these standards might easily be forgotten or compromised. Our emotional commitment to the ASO and its potential is profound. This prompts us to speak out lest we fail in our duty to preserve the extraordinary legacy that has passed into our hands as temporary stewards. This is all the more poignant in that next season we celebrate the legacy of Robert Shaw. The ASO is a jewel, which should not be lost or compromised, and the current conditions threaten that loss.
This year's contract negotiation repeats an unhealthy pattern of pitting musician and management positions as incompatible alternatives. The situation is not unique to Atlanta. There are positive examples to emulate but above all we must avoid the residue of discord and acrimony. The concept that stopping the music — whether characterized as lockout or strike — as a reasonable alternative is unfathomable, deeply divisive, and would be a tragic mistake.
Two years ago, our musicians accepted huge concessions with an expectation that, in so doing, both board and management would be able to steer the organization out of financial distress. We ask the board and management to acknowledge the sacrifice the musicians have already made, and to examine other ways and areas to establish sustainability.
Sustainability must also be applied to a quality of the orchestra and the notion of excellence, not only to finances. There are artistic lines that cannot and must not be crossed. We must re-dedicate ourselves to the ASO's founding principles of excellence and to the support of a full, robust, and world-class symphony orchestra. We need a long-term agreement. The very nature of how the ASO interacts with its community is far better served without frequent interruption of collective bargaining. Creative innovation itself requires time. Conception, investment, and experimentation take time to implement, and cannot be assessed instantly.
As we reflect on our long and deep relationship with this remarkable orchestra, it is our fervent hope that our words would be used only as a reminder of the common purpose we share: the purpose to which the board has generously and tirelessly devoted considerable energy and personal resource – and that same purpose to which the musicians dedicate their lives and livelihoods.
We are both deeply committed and deeply concerned.
ROBERT SPANO
Music Director
DONALD RUNNICLES
Principal Guest Conductor
For those unaware, even though the music director (MD) serves as a senior member of the executive management, s/he does not occupy a position at the bargaining table. Instead, the music director makes any desired changes to the CBA known to the board and/or CEO and hopes for the best.
A New Age Of MD Activism?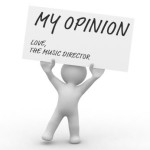 Traditionally, MDs adopt a see no evil, hear no evil, speak no evil approach when collective bargaining rolls around but one of the more intriguing byproducts of the post economic downturn era is music directors taking very clear positions on one or more key issues in a labor dispute.
Perhaps the most prominent example to date was Minnesota Orchestra MD Osmo Vanska's decision to resign then decline to resign until the institution removed the CEO he found responsible for the unnecessarily severe work stoppage and damaging the institution's artistic standard (which he spent years crafting).
Having said that, the reality is MDs have played the invisible hand of the market role for decades and from that position, MD influence is nothing new. What has changed, however, is the less opaque approach that strikes a chord with stakeholders and observers alike as taking sides in the dispute.
Granted, "taking sides" is certainly not the best way to characterize this sort of involvement but there does seem to be a clear line in the sand with regard to musical standards that MDs aren't comfortable watching either stakeholder risk for the sake of brinkmanship. Consequently, it shouldn't come as a surprise that something such as musical standards aligns more closely with musician stakeholders than the employer but it would be folly to assume that MDs and musicians are aligned so closely on most issues of equal importance to all parties involved (just ask both groups how they think artistic review and tenure should be structured).
For now, the ASO continues down a path toward a midnight 9/6/14 deadline but unlike this time last week, the Woodruff Arts Center board of directors (the ASO's parent organization and the actual deciders) know precisely where their executive artistic team stands on the issue of sustainability, dedication, and musical/artistic standards.
Update:
for more, check out today's issue of The Atlanta Journal Constitution where Howard Pousner
explores
this topic as well as a response from ASO management. Interestingly enough, the response comes across with what might be best described as brinkmanship via reiterating bargaining positions rather than addressing the sentiments brought up by Spano and Runnicles. Likewise, ArtsATL published an
article
by Jenny Jarvie in today's issue.