Following up on a question from earlier in the week on whether or not Atlanta Symphony Orchestra (ASO) interim CEO Terry Neal will be involved with negotiations, evidence has surfaced which confirms he will not be part of the bargaining process.
A 9/29/2014 letter from ASO board chair Karole Lloyd made it clear that Neal will only be focusing on the housekeeping roles associated with the CEO's duties and responsibilities. A copy of the letter follows (emphasis added):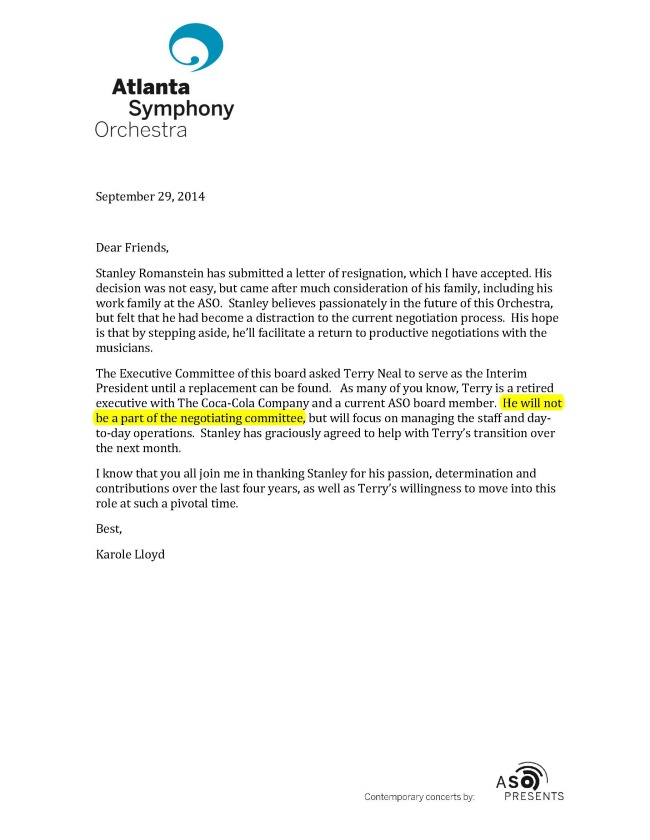 A Bigger Fish To Fry?
Although the lion's share of attention is rightfully focused on the lockout and associated bargaining positions the underlying element here that has just as much impact for the ASO's long term position is the relationship between the Woodruff Arts Center (WAC) executive committee and the ASO board.
There have already been public fractures resulting in at least one ASO board member to resign due to frustrations over an inability to sway the WAC's leadership, which has ultimate say in accepting a new collective bargaining agreement.
The 9/22/14 edition of ArtsATL.com published an article by Jenny Jarvie which reports the WAC rebuffed an $830,000 pledge from a group of ASO board members which put the offer together on top of their regular annual gifts hoping to persuade the WAC to engage musicians in play and talk negotiations as opposed to initiating a lockout at the earliest possible moment.
That effort, led by former ASO board member Ron Antinori, and the resulting rejection led to Antonori's resignation from the board. If additional ASO board members follow Antinori's lead, the institution is at risk of devolving into a glorified supporter society rather than serving as a responsible part in a larger governing collective designed to serve as stewards of public trust.