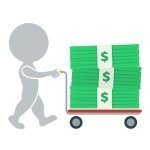 Barely four months after announcing The Hall Formerly Known As Avery Fisher (THFAAF) was up for naming rights dibs, the Lincoln Center for the Performing Arts found a taker. According to an article by Robin Pogrebin in the 3/4/2015 edition of New York Times, the naming rights are going to cover approximately 1/5 of the half a billion dollar renovation.
The individual picking up the tab is David Geffen, #195 in Forbes' big list of billionaires and the 68th wealthiest man in the US, and he doesn't want his gift to go the way of the Fisher family. According to Pogrebin's report, the 72 year old entertainment industry magnate insisted that the Lincoln Center keep his name on the hall in perpetuity.
Adjusted for inflation, Geffen's gift is nearly double what the Fisher family donated in 1973 and per our speculation back in November, it looks like we won't be treated to anything outside of the ubiquitous donor name for a very (very) long time.