While doing some due diligence on a new business cellular provider (more on that in a few weeks), I found myself wondering how many arts orgs provide one or more group of employees with a company cell phone. As such, let's see what we can find out.
Among for-profit businesses, this is a fairly common practice but it is rather hit and miss for arts orgs. Even that varies from one country to the next.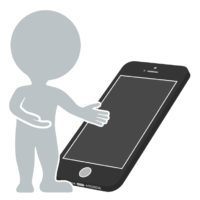 Case in point, when I was working for the Qatar Foundation in 2008 as the lead consultant responsible for developing a comprehensive organizational and operational model, the foundation insisted on providing each employee, both admin and musician, with a cell phone and calling plan.
Consequently, that item didn't need to be included in the larger comparison of arts organization models, so I never found out if there is any particular global trend, especially among artist employees.
In the US, the majority of arts employers don't even provide artist employees with business cards so it shouldn't be surprising to discover if most do not provide a company cell phone. For small and mid-budget size organizations, the cost alone would be prohibitive but for larger budget groups, there's a great deal of benefit to be had form a uniform communication platform and single point of contact.
As such, I'm curious to see where this topic leads.
Does your organization provide cell phone and/or subsidized cellular plans for both administrative and arts employees? If so, I'd love to hear about it.