It is always a pleasure to work on unique projects. One recent example I wanted to point out today is the work that went into the new website for Pittsburgh Symphony Orchestra Violist Penny Brill's Musicians As A Community Resource project, which focuses on a broad range of music and wellness initiatives.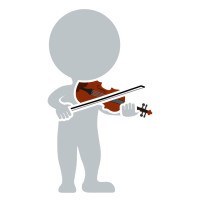 Brill's work with Music and Wellness has generated international attention; everything from the British Medical Association Newsletter to the Strad (online). Recently, the IAMM journal Music and Medicine published her article, "Addressing Community Concerns Through Music," in their July 2016 issue.
After all of her work on music and wellness, Penny approached me to see about helping her create a website to serve as a resource for all of this material.
One of the most pressing challenges was taking years of content and project work that developed organically over the years and bringing everything together with a content strategy that creates an intuitive website visitor experience and facilitates incoming content.
Suffice to say, it was an extensive project!
But by the end of the project, everything not only came together to build a solid content architecture. The site reflects a great deal of Penny's personality; everything from the bright color palette (which helps distinguish content sections) to the logo designed by her sister, an accomplished graphic designer.
Among the mountain of new content and content revisions on Penny's plate was the challenge of coming up with a concise description of the purpose of the website, in order to help visitors understand the larger mission:
Those of us who work in and for orchestras realize the need to create programming for both large and small groups; programming that strengthens and enriches communities in areas that the community considers to be important. We can use music to address community concerns, and we can adjust how we present the music in accordance with the diversity of interests and experience of our musicians and our potential audiences. Penny Brill, who first became known for her work in establishing the Pittsburgh Symphony's music and wellness program, has created the MUSACOR site. MUSACOR, along with its partner site on Facebook and the compendium Music as a Global Resource, is intended as a forum to provide you with ideas and resources to support the development of effective, in-depth, sustainable music programs well-suited to your community's changing needs.
Her official website launch caps off a flurry of summer activity that included receiving The Ford Musician Award for Excellence in Community Service. You can visit the Musicians As A Community Resource site at musacor.com as well as the dedicated MUSACOR Facebook page, where Penny can interact one-on-one with anyone interested in music and wellness.
It was a genuine pleasure working on such a unique and special project and I look forward to working with Penny as her efforts (and content!) continue to inspire and expand.
visit musacor.com