With all the discussions intersecting arts advocacy and political action, it's worth taking a closer look at the sort of lobbying activities 501(c)(3) nonprofits can participate.
And since we're talking about a topic that clearly crosses the threshold into legal waters, let's be clear that the information provided here is not legal advice. The purpose of this post is to examine the topic and inspire consideration. You should always consult with an attorney who specializes in these areas before taking action.
For some backstory, a reader posted a comment to an ArtsHacker article about advocacy in the wake recently proposed elimination of the National Endowment for the Arts (NEA) and National Endowment for the Humanities (NEH) pointing out the very straightforward rules related to nonprofit 501(c)(3) and lobbying.
In a nutshell, it's not allowed.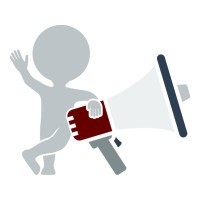 Consequently, advocacy efforts would seem to be limited when viewed exclusively by that set of criteria.
Having said that, we are talking about the Internal Revenue Service and rules are often accompanied by one or more provisos. In this instance, the 501(h) election provides a way for charitable nonprofits to implement limited legislative lobbying efforts.
One of the most useful resources you can find to begin learning more on this topic is the National Council of Nonprofits. They maintain an excellent page dedicated to this issue explaining what the 501(h) election is, legal resources, user-friendly examples, and related considerations.
I strongly recommend reading that full article then examine the 2013 IRS 990 from the San Francisco Symphony Orchestra.
This is an excellent example of a 501(c)(3) using the 501(h) election and reporting it accordingly. In particular, you'll want to note the following items:
They indicate an affirmative to Part IV, Question 4.
They complete all related information in Schedule C, Political Campaign and Lobbying Activities