After reading an article by Kate Wagner in the 11/27/2018 edition of The Atlantic that examined the increase of noise levels at restaurants, I knew acoustician Chris Blair, one of Adaptistration's most popular guest authors, would have plenty to say on the topic. Chris' article expands on The Atlantic piece by providing a deeper dive into the subject and presenting approaches establishments can consider to help rectify the problems. ~ Drew McManus
Perhaps it's because I am paid big money to create quiet concert halls, or perhaps it's because I'm growing old and crotchety, but why do so many bar and restaurant owners seem oblivious to excessive noise? For those of us who enjoy engaging social encounters over dinner and drinks, our options seem to be quickly diminishing, except at the priciest places.
I'm not speaking here of places such as the honky-tonks of Nashville, where music is blasted at ear-bleeding levels…because I can't go into them anyway. My ability to hear quiet is required in my profession. Nor am I talking about places with throbbing air-conditioning equipment. I will depart them before sitting down.
No. My problem is…"people-noise".
The basic mechanism is really quite simple. Say you're having a conversation in an empty tavern. The seats are un-upholstered, there is no carpet, there are no curtains, but it is fine. Another ten parties enter with similar intent. As there is no acoustically absorptive surface provided for this extra vocal energy, the background noise behind your conversation becomes louder, making your communication more difficult.
So you raise your voice to be understood. And the other parties do too. The place is becoming "lively" to those outside, and another ten parties enter.  It is now necessary to holler to be understood. You, and probably the rest of the older crowd valuing easy conversation, decide to depart, but are quickly replaced. The crescendo continues, as do the profits.  It is no longer possible to communicate by speech without strain, so out come the "smart" phones to text the person on the next stool.
Sad.
What I have described here is what acousticians refer to as the "cocktail effect"…background levels that exceed the theoretical increase of 3 dB per doubling of population due to the necessity of raising one's voice to be understood.
The solution to the "problem" is actually rather simple, but must be addressed with some nuance. Add a bit of acoustic absorption to counteract some of the additional energy, but not enough to kill the buzz, which has financial value for the owner. Complicating the addition of absorption surfaces is the modern desire for ease of cleaning and unadorned visual aesthetics. Not an insurmountable issue, there are products that give the desired appearance, but they tend to be costly, and new restaurants are speculative experiments at best.
It is the rare first-time restaurateur who seriously considers noise level at the decision making point in design. The attention will focus on the visual. However, most will likely be open to thinking about the issue at the point of major renovation (after noting previous acoustics deficiencies themselves) or when receiving client comments. So, if you really like a restaurant's food but are put off by the noisy ambience, do the owner a favor and let him or her know. (But strategically, open the conversation first with the culinary compliment.)
I close this rambling rant with three successful examples of remediation I was able to implement:
Laurel Beach Casino
This is a community clubhouse in my neighborhood, approximately 72' x 36' x 18' tall. When I attended my first social event there it was simply impossible to hear a neighbor's conversation across a table for eight. If you wanted a conversation without shouting you had to go outside. After a number of similar experiences I dragooned some of my neighbors to help me install simple acoustic absorption in the upper half of the room behind a decorative cedar trellis. It is now not only much easier to have a conversation, it is still acoustically lively enough to support my annual chamber orchestra concerts.
In the video above: upper wall acoustical absorption treatment at Laurel Beach Casino.
O'Neill's Irish Pub
This establishment is located one floor down from my consulting office. It was another hard-surface room, easy to clean, but easily overwhelmed by patron noise. Upon our advice they installed a modest amount of absorptive elements on the ceiling, which tempered the noise build-up without killing the energy, and, as a side benefit, resulted in fewer mistakes by the staff in taking meal orders. We had to work around existing lights, sprinklers, etc., so the appearance is a bit "busy".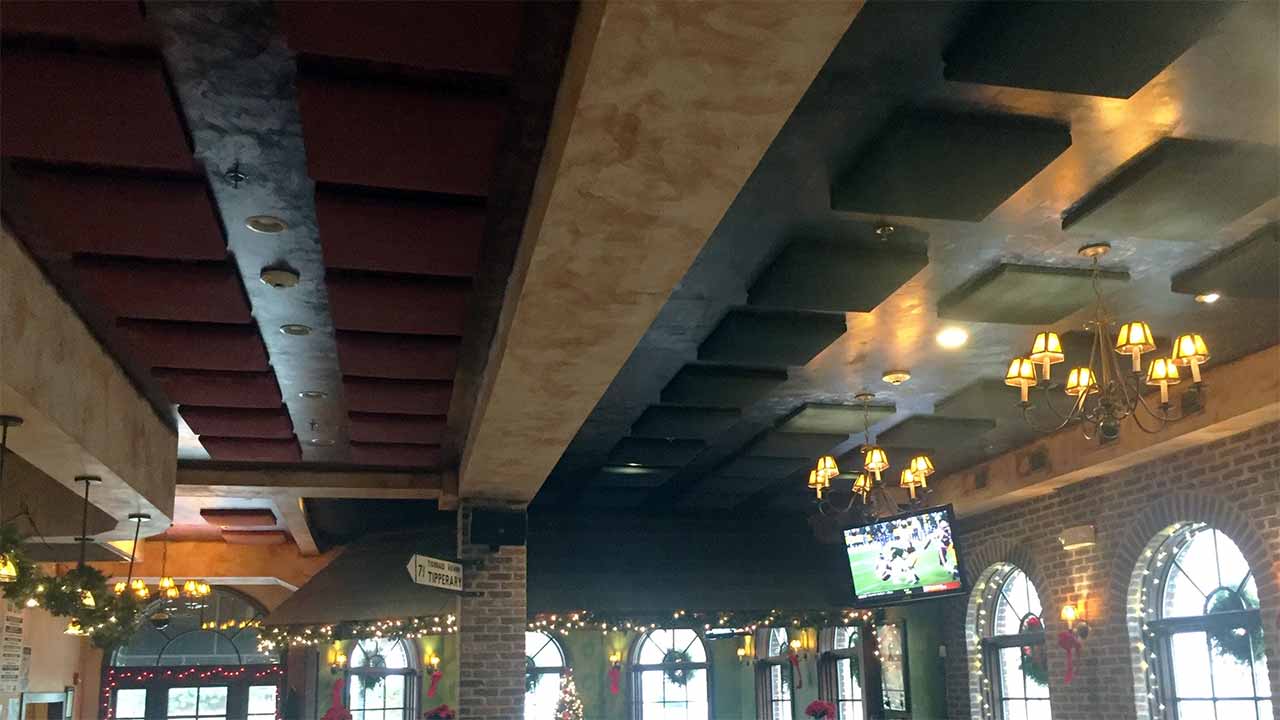 Stonebridge Restaurant
This is an unusual example as the absorption design was incorporated as part of the room concept along with locations for sprinkler heads, lights, etc. This was a renovation of the bar area, and the owner was already well aware of acoustical issues.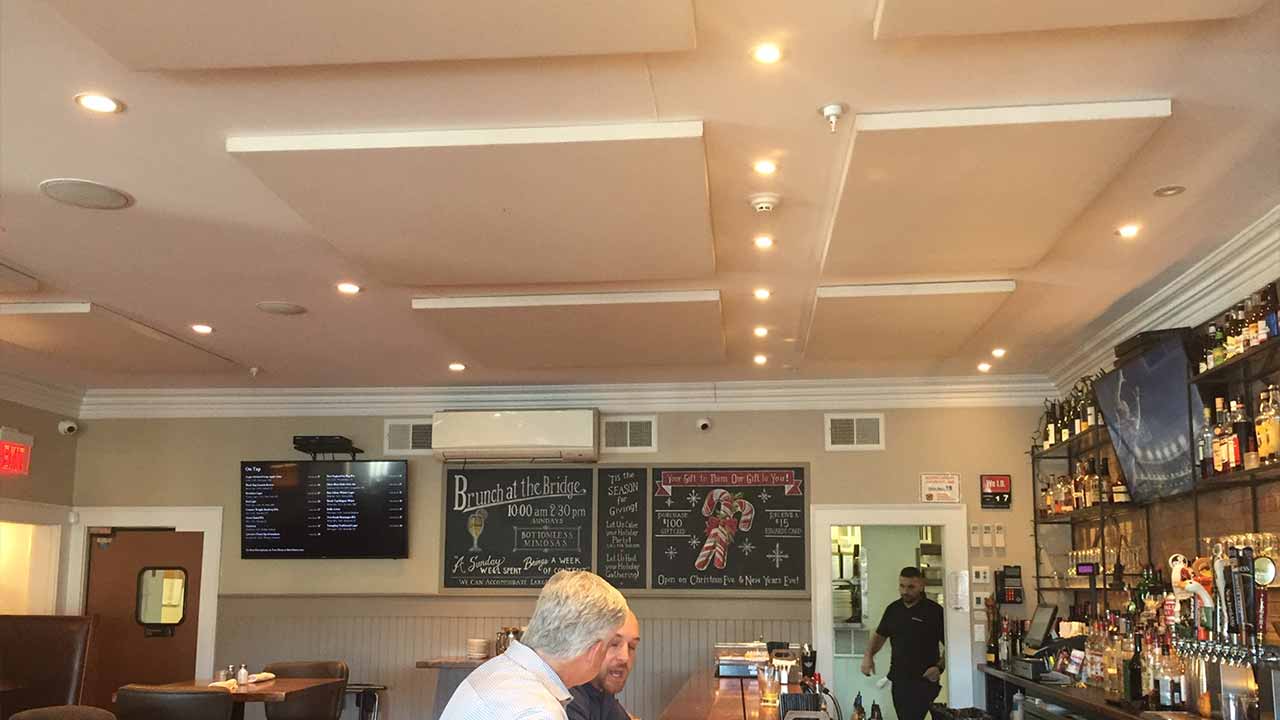 Social discourse has long been the foundation of intelligent procreation. We owe it to our species to accommodate its requirements.
(OK. Maybe that was a little over the top.)