I'm in Knoxville, TN today and tomorrow for the 2019 Southeastern Theatre Conference (#SETC2019) convention where I'll be leading a pre-con session about creating a data-driven culture.
When: 27, 2019 | 1:30–5:30 p.m.
Where:70th Annual SETC Convention | Knoxville, TN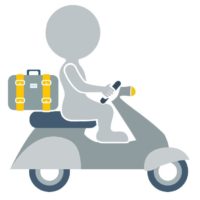 Alongside me leading the session is Ceci Dadisman, we've been hard at work putting together this half-day session and it's a genuine treat to have this much time.
Usually, conference sessions are limited to fitting one large concept into a discussion or walking through a half dozen or so step-by-step instructional sessions. But having four hours provides a meaningful platform to better understanding of how data is gathered, processed, and analyzed.
By the end of the session, participants will have a solid footing on how to gather accurate data, make sure it gets converted into meaningful reports, then use analysis to arrive at data-driven decisions.
Session Description
Do you look at your Google Analytics data and not know what to do next? Are you not getting the most out of your Facebook advertising campaigns? Do your emails have lackluster open rates? Do you go with gut instinct because you're not sure what else to do? The key to successfully engaging your audience includes using data to deliver the right message to the right person at the right time.
Organizations that successfully cultivate a data-driven culture reap a multitude of benefits. This workshop will help attendees better understand the tools available, provide an implementation friendly guide to data-driven communication techniques, and offer a path to successfully cultivating a data-driven organizational culture.
In this workshop, you will learn how to:
Establish the key components that contribute to an effective data driven culture
Determine what data is important for your organization
Differentiate between reporting and analytics
Create segmentation strategies to lower costs and maximize results
Set up a communications strategy
Empower team members with analysis
Identify meaningful outcomes
A complete session agenda will be made available at the conference site.
If you plan on attending the conference, be sure to reach out and say hello! You can use Twitter or send an email.