There's a fascinating article in the May 21/2019 edition of SocialMediaToday.com (h/t Thomas Cott) that examines a report from Klear (a marketing software platform) that begins to provide perspective on influencer marketing rates.
[This] where this new report from Klear comes in – to help provide more transparency in the influencer marketing process, Klear surveyed more than 2,500 different types of influencers across three major social networks (Instagram, YouTube and Facebook), in order to gain some perspective on what they're charging for sponsored content.
The article makes it clear that the survey is not comprehensive enough to be taken as a definitive source but it's a far better resource than what's been made available up to this point.
We've touched on influencer marketing over the last year; with how it could become a useful alternative to comp tickets as well as a how-to guide from ArtsHacker on how orchestras can begin using influencer marketing.
Of particular interest is the return on investment (ROI) for what the report considers Nano influencers (500-5k followers) that also specialize in niche topics like…oh, I don't know…classical music.
In Cott's tweet, he asks followers if they've used influencer marketing and I'm going to ask the same thing, albeit from the framework of the report's rate card: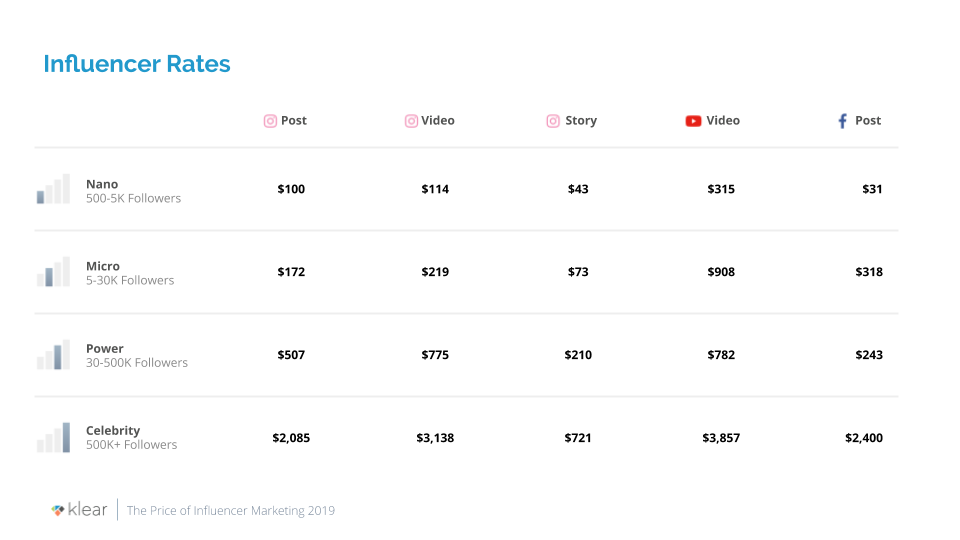 If your organization has engaged influencer marketing, I'm all kinds of curious to learn the following:
Which influencer category did you engage (Nano 500-5K Followers, Micro 5-30K Followers, Power 30-500K Followers, or Celebrity 500K+ Followers?
How did you go about selecting the influencer to work with?
Was your rate similar to what Klear determined?
What was your ROI?
Leave a reply in a comment below or use this super-fun multiple choice Tweet (notice: using the super-fun tweet may increase your daily happiness by 100%):
[easy-tweet tweet="We used a {Nano/Micro/Power/Celebrity} influencer becasue {state reason}. Our rate was {similar/more/less} to the study from @Klear and our ROI was {terrible/meh/great}. " user="adaptistration" hashtags="#influencer"]