Turns out designing and ordering the badges took a lot less time than I anticipated and that means you can now order your favs or entire sets.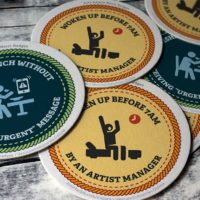 I'm keeping half of the first order for my own stash to use as conference SWAG which means there's limited inventory for Round 1 and everything is available on a first come, first serve.
Expected shipping for Round 1 is Monday, Nov 11 and if they sell out of most by the end of November, rest assured Round 2 will be a much larger order to accommodate holiday gift giving (because who wouldn't love to get a set!?!).
Round 1 includes 17 different badges that you can mix and match at any quantity. Each badge is a 3″ diameter made from a thick durable vinyl that protects your stickers from scratches, water, and sunlight.
Regardless of quantity, every order includes free USPS shipping and the cost is only $12.50/each (and free shipping) and a bevy of quantity discount tiers:
Buy 5-9: 20% discount ($10.00 each)
Buy 10-19: 30% discount ($8.75 each)
Buy 20-49: 40% discount ($7.50 each)
Buy 50+: 50% discount ($6.25 each)
Get Your Very Own Arts Admin Merit Badges
Round 1 Badges
New merit badges will be rolled out in subsequent rounds.
Want To Get A Free Arts Admin Merit Badge Sticker?
You can get a free merit badge by crossing my path at any of my upcoming conference and convention appearances. I'm sure I'll be giving them out from time to time so you never know when one might show up at your door.