While it shouldn't come as a surprise to learn that the pandemic has seen numerous arts administrators and musicians leave the field entirely, it's one thing to look at it as a statistic and something else entirely to humanize it.
To that end, Jeremey Reynolds wrote an excellent article for the 7/22/21 edition of the Pittsburgh Post-Gazette that examines a cross section of musicians and their decision to stay or leave the field.
What makes the post especially useful for those of us inside the field is how good of a job he does at reminding us that most professional musicians don't earn their living in a single orchestra.
While organizations like the Pittsburgh Symphony Orchestra and Pittsburgh Opera have come through in one piece, however, independent musicians at smaller regional orchestras and groups took the brunt of the impact. Smaller ensembles could not continue employing them through the pandemic.
This mirrors what we uncovered here after tracking employment status of orchestra stakeholders over the first six months of the pandemic. Based on those figures, per-service musicians experienced the worst of it.
Right out of the gate in April, 2020 just over half indicated moving into unemployed status with a scant three percent indicating being fully employed. By June, 2020 the ratio of unemployed increased to just under 3/4 and see-sawed around that proportion through August, 2020. There are no two ways about it, per-service musicians have been enduring a grim employment reality.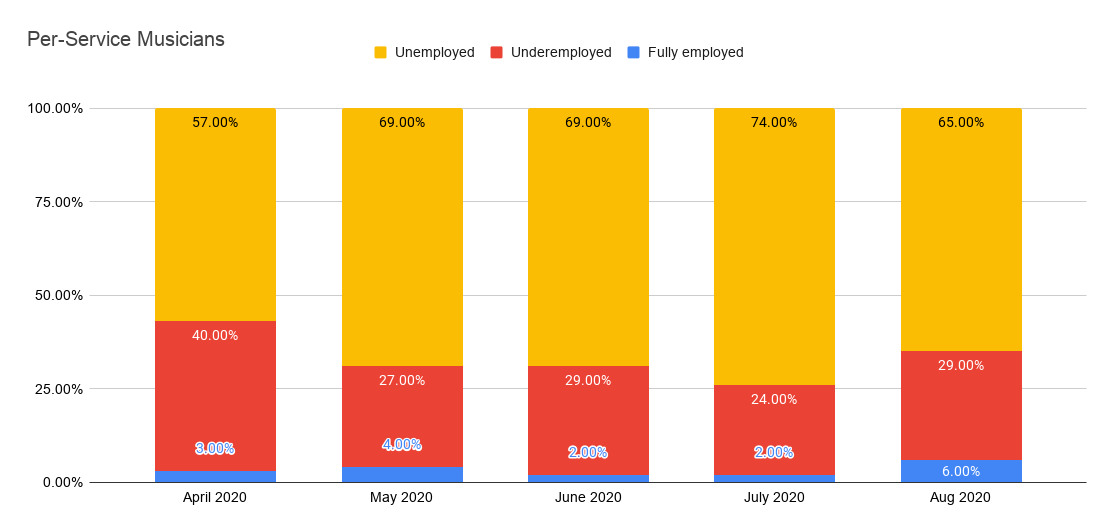 You can read more about how employment status changes for orchestra stakeholders in the review article from Sep 8, 2020.
After Five Months, Orchestra Stakeholders Have Seen Big Changes In Employment Status