What a mess. This business with the Audubon Quartet is worse than the recent debacles at St. Louis, Philadelphia, and Baltimore combined. Just in case you're not up to speed on the details of this disaster, there are two excellent articles by Dan Watkin in the New York Times (here and here), go read those and then come back. The whole scenario unfolds like a Shakespeare tragedy; in the end, everyone dies before they learn the lessons they should have already known. Nevertheless, I think the worst part is most of the unpleasantness could have been easily avoided…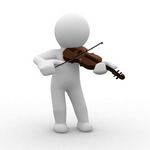 At the heart of the issue is a string quartet who fell apart at the seams and when push came to shove and the courts got involved all of the parties discovered that they had not been keeping the business end of their quartet in as fine shape as the artistic end. Although I'm skipping a great deal of detail (don't forget to go back and read those NYT articles for the details) what you need to know is that one member of the quartet sued the remaining members.
When things moved into the courtroom a judge didn't care about artistic temperament, the indescribable bond between a musician and their instrument, or if anyone's previous actions were "justified". The court turned its rightfully blind eye toward those issues, examined the quartet as a business, and applied the applicable law; according to the Roanoke Times, the judge appointed to the case called the decision a "no-brainer".
As it turned out, the quartet had not done a very good job of pursuing due diligence when it came to creating their business contract. In the end, some of the members may be paying for those mistakes more than others, but they are all losers.
Since the news broke, I've received a considerable number of email messages from readers, mostly musicians, who are outraged over the fact that some of the quartet members are going to have to surrender their instruments per a court order. Regardless of how emotionally wrenching and terribly wrong something like this is, it's still something which could have been avoided if the quartet invested in a good lawyer to design their contract years ago when they were emerging into success and reviewed the contract on a regular basis.
If there is a lesson to be learned from this tragedy it is this: good fences make good neighbors and good contracts make good musicians. For reasons which seem foreign to me, there seems to be a growing trend in the orchestra business to shy away from lawyers and create (or even worse, implement) collective bargaining agreements with a laissez faire, laissez passer attitude without regard for the law (not to mention their best interests).
Of course, any contract is only as good as the people involved with it; nevertheless, a tightly worded contract crafted with all parties clearly understanding their options and consequences of their future behavior will marginalize the damage that can be done by any one individual with bad intentions.
Will this business learn from the Audubon debacle? I doubt it. Unless the nature of how musicians are trained during their academic years change, this tragic opera is guaranteed a repeat performance.
Postscript : In a bittersweet way, this story would actually serve as a wonderful libretto for a new opera. As a matter of fact, I can't think of a better way to drive home the sincere magnitude for why musicians need to have a well written, detailed work contract. Even so, I know musicians would be more apt to take the message to heart as compared to simply attending a seminar…
When this whole mess broke, I originally thought that I would avoid writing about it lock, stock, and barrel. Thankfully, Lisa Hirsch (the always clever webmistress behind The Iron Tongue Of Midnight) took the time to blog about this very same issue yesterday and her lead gave me the needed push to publish something.