Does it seem like more and more of your time is consumed with staff meetings? Does your department head enjoy scheduling meetings that seem to be designed to prevent you from completing your work? Thankfully, you now have a quick and easy way to calculate labor costs for all of the time spent in meetings thanks to a fun little webapp called Meeting Miser, from payscale.com. Featured in 11/7/07 edition of lifehacker.com, the easy-to-use application tracks the cost of meetings based on hourly or annual salary data.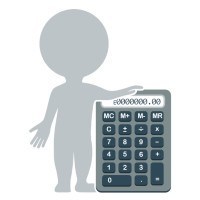 It should take most folks all of 20 seconds to learn and although you might find the ability to customize hourly/annual compensation figures a bit too limited, it is still a fun device to keep tucked away in your bookmarks. According to the payscale.com product description for Meeting Miser, the application is also handy at figuring out how much bathroom breaks costs (although I find that way too creepy) as well as determining how much money you spend contacting a vendor's tech support or customer service. It is probably safe to say that just about everyone could put this webapp to good use for that last scenario.
In order to try it out, I configured Meeting Miser to calculate the meeting cost attended by a marketing director, two marketing managers, and a marketing coordinator for the North Carolina area (thanks to a local NC orchestra's most recent 990 for some reference figures). After letting the clock run for 37:30, it determined the fictional meeting's labor costs were $62.16, as illustrated in Meeting Miser Figure A.
Other fun orchestra-centric uses include determining exactly how much it cost the organization because the music librarian forgot to include a last-minute cut in half of the musician's parts. A few minutes may not seem like much time to fix a relatively simple omission but when you take into account that the average ICSOM musician base salary works out to $1.56 per musician for the 3:02 it took to fix the error during rehearsal (as illustrated in Figure B) and multiply that by 90 musicians, the error actually cost the organization $140.40 in musician rehearsal-hours.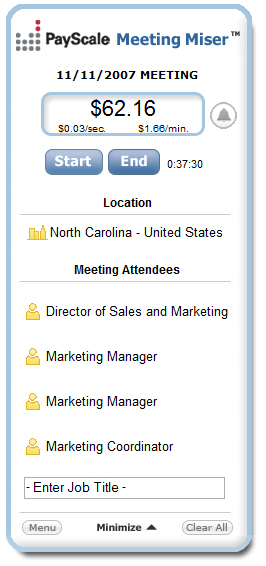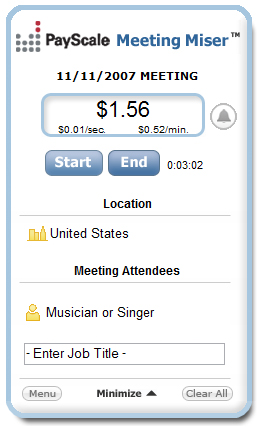 Postscript: Before I get a flood of angry email messages from music librarians, you can easily revamp the above scenario parameters to indicate that the 3:02 in wasted rehearsal time is due to the fact that even though a guest conductor knew about the intended cut well in advance, he/she failed to notify the music librarian by the allotted contractual deadline, thereby abdicating the music librarian from any culpability.