The final article in the 2008 Orchestra Website Reviews will compare US and Canadian results. Both groups made advancements but the Canadians, on average, made greater strides. This article examines exactly which components from each category impacted those improvements the most…
Category By Category Comparisons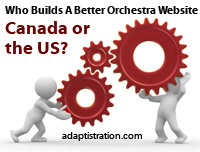 In 2007, only one category generated a close margin between Canadian and US average scores, however, the category margins for 2008 were much closer. In the Performance Schedule category, both groups scored equally well for providing current and upcoming concert information on the home page but Canadian orchestras excelled at providing an interactive monthly calendar to aid users in finding concert events.
When it came to assisting patrons with purchasing tickets, US orchestras did a much better job at providing options for online subscription purchases but Canadians earned more points at providing options for single ticket purchases as well as better seating charts and expanded telephone based box office support. Of the categories where Canadians excelled, the Making Donations category saw Canadian orchestras provide more giving options over e-commerce servers that were more secure. Undoubtedly, the Canadian's sharp increase in utilizing a high quality third party online donation provider over foregoing online donations contributed to their dominating this category.
When it came to Orchestra Information, even though the Canadians enjoyed their second highest margin in his category, both groups only managed to earn low scores. Nevertheless, Canadian groups earned higher scores in each sub-category and did a particularly better job at providing contact and bio information for board members.
Of the two categories captured by US ensembles, they earned the largest margin in Dynamic Content. US groups provided better educational content, networking tools, and detailed press contact information. At the same time, Canadian groups provided slightly more syndication tools much more traditional media content. The final category, Functionality, produced another very close margin but in the end the Canadian groups nosed ahead by providing more complete legal notices.
Projections

If past performance is any indicator of future returns then things are looking up (sorry, using that financial boilerplate in the current economic climate is simply irresistible). If scores continue to increase at average rates, then Canadian groups stand a very good chance at coming close to or exceeding a minimum acceptable score for an effective website; a first since the reviews premiered in 2004.
Nevertheless, if any orchestra expects to increase their rate of improvement, they would do well to focus on improving:
online subscription purchases
seating chart offerings (please, no more top down drawings)
the variety of online giving options
the amount of biographical contact information for musicians, administrators, and board members
the quality and quantity of networking and syndication tools
detailed press contact information
The North American Top 10

The Canadians made inroads into the North American Top 10 list this year. Not only did they enter a second orchestra onto the list but their highest scoring orchestra, Edmonton Symphony, occupied the #3 slot. Nevertheless, the top two slots are once again dominated by the only two orchestras to break 90/100 for the past three years: Chicago Symphony and Nashville Symphony.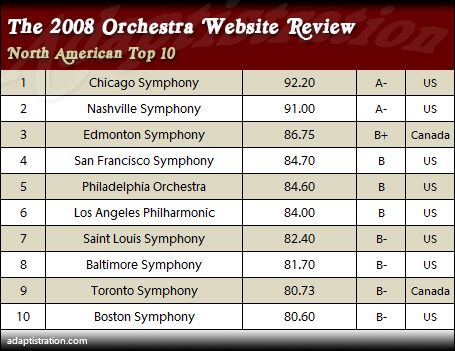 In the end, Canadian websites showed marked improvement and demonstrated that budget size places no undue burden on creating an effective website. It will be interesting to see what 2009 produces; will the Canadians manage to break the 90/100 threshold or will their US counterparts make a move to dominate the Top 10. Regardless, so long as scores continue to improve, the real winners are patrons who benefit from improved online offerings.