The United States Federal Government isn't even half way through handing out more than $700 billion in bailout funds to the nation's financial institutions in hopes of healing self-inflicted wounds and now the three major US auto makers are looking for a handout. According to a report from CNN, the auto makers claim sharp declines in sales necessitate sizeable levels of government assistance in the form of direct bailout funds or massive low-interest loans. Given the government's habit of handing out large sums of cash, no questions asked, for foreign wars and domestic financial impropriety the nation's professional arts organizations had better step up with their hat in their hand soon before China decides to stop lending us money…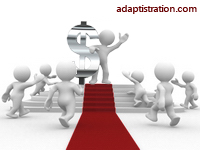 All bitterness notwithstanding, arts organizations simply have nothing to lose by pushing their federal representatives for emergency bailout funds. In fact, they can structure the request to include funding for large numbers of free public concerts. Compared to funds directed to other bailout efforts, every professional orchestra could provide no less than six free concerts per year for not even one thousandth of the $700 billion allocated to corporate bailouts so far.
At the very least, arts organizations should ask the government to provide the means for no-fee lines of credit and low-interest long term loans. Perhaps it would be worthwhile for the CEOs and board chairs of the nation's largest budget arts groups to request a meeting with key congressional leaders to review what government can do to help (it worked for the auto makers). After all, what do you have to lose in asking?