The 3/8/2009 edition of the Chicago Tribune published an article by Howard Reich that reports on the continued rise in applicants to music schools across the country. Based on a wide variety of quotes from a broad cross section of music school administrators the article paints an idyllic picture of opportunities that await graduates but the simple fact is these institutions continue to earn a failing grade at adequately preparing students for the realities of a career in this business…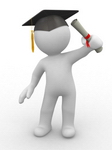 On the positive side, several administrators were quoted saying that their respective institutions now offer courses that promote entrepreneurialism. One school indicated they offer courses designed to teach students how to "start non-profit organization or create a digital score" while Oberlin asserts they teach "entrepreneurship, how to start an LLC, [and] tax law."
A few years ago, these sorts of offerings weren't even on a school's PR radar so hearing them talk about it in a major newspaper is a step in the right direction. On the other hand, you don't catch up by going slower and although I have not investigated course offerings since the 2007/08 scholastic year I'm willing to bet that none of these courses are required for performance majors. At best, they are electives offered on an infrequent basis and at worst, are limited to workshops or voluntary lectures.
In general, American schools of music continue to do the field a disservice by painting an entirely unrealistic picture of what students can expect once they graduate. They fail to prepare performance majors with the comprehensive skill sets they'll need to lead a successful and satisfying career (regardless if their focus is orchestra) yet happily accept more and more students. As early as 2004, I designed a series of courses capable of adequately preparing music students to maximize the likelihood of success in their specialty of choice although a key component in this program is the courses must be required for graduation. Perhaps unsurprisingly, this garnered little interest and no action from academic administrators from a host of established conservatories and schools of music.
Nevertheless, I like to remain optimistic and think that if any of the academic representatives quoted in Reich's article are sincere about preparing their students and positioning their institution as a leader in training arts professionals for the new economy, they'll begin to show and equally sincere level of interest in the ideas I defined several years ago. But the current round of hit and miss electives and workshops built around feel good buzz words will undoubtedly play out as platitude designed to ease parental anxiety and prevent students from demanding more out of their education. Although I'm not going to hold my breath, I welcome the music school or conservatory with the moral fortitude to examine the programs I've designed with a critical eye and an open mind. I'm confident that the inherent value and ease of implementation are self evident.
On a related point, Reich's article made me think back a few years to a post from October, 2006 entitled Improving The Sustainability Of Classical Music Though System Dynamics. It explores the dynamic lifecycle of a musician and the interactive systems model designed by Bill Harris which allows users to explore how shifting variables can impact the business. What is most important here is that the model doesn't begin examining the life of a musician from the point they embark on a career, but from the point of childhood when their interest in music is first piqued, through their formal education, entrance into the arts workforce, and eventual retirement.
Ultimately, music schools have a greater responsibility to their students than saying there are more career opportunities than just performing and cobbling together a few simplistic business for dummies style workshops. They need to spend less time constructing what Reich describes as aggressive marketing efforts and redirect those resources toward designing substantive programs and follow up by tracking student progress once they leave the institution.