At the beginning of April, we conducted a poll asking readers what they thought about the numbers of students graduating with music performance degrees. With more than 500 responses, the vast majority of readers, 73 percent, indicated that conservatories and schools of music produce too many classical music performance graduates.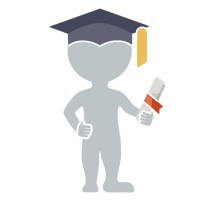 18 percent indicated the numbers of graduates are reasonable and only two percent indicated there should be even more graduates.
Seven percent selected "other" and among those, the majority of respondents took the time to mention something along the lines of the elective entrepreneurial courses some institutions have been weaving into traditional course work.
Most of those respondents indicated this was a reasonable counterbalance to overproduction and although that direction contains genuine potential, actual implementation can do more harm than good.
The First Great Lie Of Academia
"Work hard, and you'll win a job."

At one point in time, this was an entirely justifiable academic mantra. During it's heyday, it provided a solid foundation for justifying curricula and methods but once production surpassed capacity, it made the uncomfortable transition from mantra to lie.
And like most fabrications of this nature, it eventually collapsed under the weight of empirical evidence. Just ask any of the thousands of music performance majors that graduated from conservatories and schools of music during the 1980s and 1990s who worked hard but never managed to secure living wage employment thanks to unsustainable competition and plateauing employment opportunities.
The Second Great Lie Of Academia
"Entrepreneurship will provide career security."

Over the course of the last decade, an increasing number of conservatories and schools of music began introducing elective entrepreneurship courses alongside traditional curriculum. And much like the original great lie, which never started off life as anything but earnest realism, early efforts were pioneered by academics with genuine concern over student wellbeing and responsibly justifying the numbers of students matriculating through their programs.
But over the course of the last decade, I've observed the vast majority of these programs morph into the sort of panacea that looks great on recruitment material, is attractive to potential funders, but falls far short of delivering skill sets students need to have a reasonable shot at building a career outside of the traditional employer workplace.
Toward the end of the First Great Lie era, it was difficult to miss how much academic institutions failed to quantify success rates among graduates. The reasons were obvious: the numbers were horrible.
Nonetheless, if you take some time to peruse conservatory and schools of music websites, you'll see a very similar approach; there's plenty of ballyhoo over entrepreneurship, but little to no data measuring impact compared to traditional methods. Consequently, it comes across as a tool to justify ever increasing enrollments without the hassle of accountability.
This is the part that should make you upset.

In order for these programs to make good on original intentions, academia needs to demonstrate success rates. As of now, I have yet to encounter an institution that can quantifiably demonstrate a student has any better chance of developing a sustainable career than they did after the collapse of the First Great Lie.
It is precisely this sort of accountability that will help academic institutions develop meaningful entrepreneurship programs (a path I fear too many are straying from). The best way for that to transpire is if people are talking about it and asking questions.
For now, I'll readily admit that it is premature to label entrepreneurship programs as the Second Great Lie Of Academia.
To be more precise, it's at a fork in the road where it will either take the high road and realize its potential or heading south toward Liarville.
What Do You Think?
By and large, I refrain from pure commentary articles but this topic deserves to be an exception to the rule.
My recent conversation with Andrew Hitz for his Entrepreneurial Musician podcast helped me realize the need for addressing this topic in a public forum (thanks to Andrew for that spark). To that end, I'm going to reach out to some of the major conservatories and schools of music to see which ones are willing to have frank conversation about this topic then publish the results here.
In the meantime, I'm very curious to know what you think so take a moment to leave a comment in order to share your thoughts and observations.