Just in case you've missed the point that what makes classical music enduring is its street cred built off of shocking the bourgeoisie before there was a bourgeoisie, Nashville Symphony President & CEO, Alan Valentine, steps in with a contemporary example of what history has been telling us for decades. It's amazing what you can accomplish when you stop trying to micro manage how your audience experiences classical music…
Take A Friend To The Orchestra
By: Alan D. Valentine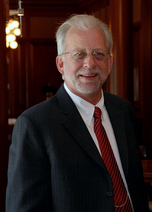 If the goal of Take a Friend to Orchestra Month is to jump-start a conversation about how we can boost ticket sales and community involvement, then I'd argue that we need to think beyond simply getting new bodies inside the concert hall. Even more important is the question of what kind of experience we're providing once people take their seats. So I'd like to tell a story about something that happened in Nashville a few years ago that energized and inspired our own orchestra.
In fall of 2006, the Nashville Symphony opened the doors to its new performance hall, Schermerhorn Symphony Center, but the first concert inside the building wasn't a gala attended by donors and patrons. It was a concert for the construction workers who built the Schermerhorn — the guys who poured the concrete, laid the stone, hung the drywall, ran the electrical wires and bolted the roof. It was our way of saying thank-you for all of the work they'd done.
As it turned out, this "hard-hat" concert, presented before the building was even complete, also doubled as a dress-rehearsal for our recording of Joan Tower's Made in America CD. So instead of performing a bill of classics by Beethoven, Brahms and Tchaikovsky, we presented the music of one composer — a living, breathing one, who happened to be in attendance. Given the nature of the occasion, Joan's piece Made in America seemed fitting, but we had no idea how the audience would react to it or to her other two pieces on the program, Tambour and Concerto for Orchestra.

The response was revelatory. Here we had an audience who didn't typically go to concerts, so they didn't have any preconceived notions about what they were going to hear — and they went absolutely crazy after each piece. They gave a standing ovation at the end of concert, and afterward, some of the audience members actively sought out Joan, conductor Leonard Slatkin and members of the orchestra for autographs.
This experience transformed our whole outlook as we were preparing to move into the new hall. It reminded us that, of all the things we needed to succeed, the most important was a willingness to maintain that fundamental sense of adventure, excitement and enthusiasm — to take risks with our programming, knowing that if we believe in what we we're doing, the audience will be right there with us.
For me, the whole notion of Take a Friend to Orchestra Month starts with this idea. It's great for those of us in the orchestra profession to invite our friends to a concert, but the even bigger question is how do we get all of our subscribers to bring their friends — and not just in April, but year-round? If we make the experience compelling enough, if we create a sense of adventure around every concert that we present, the audience will be there.
Perhaps the biggest problem with classical music is that many people have a stereotypical notion of what a concert is going to be like: It will be well-behaved. It will be predictable. It will be boring. No wonder: How many orchestras out there think that the way to expand their audience is to program a season of greatest hits?
In my experience, the opposite has turned out to be true. In the Nashville Symphony's first season at the Schermerhorn, we more than doubled the number of concertgoers — and yet one of the most notable hallmarks of our programming was the fact that we included a new work on every single subscription concert. Thanks to the excitement surrounding the new hall, we had a lot of first-time ticket buyers in the audience, and they reason they came was because they were ready to have an adventure. Like the construction workers, they didn't know they're not supposed to like contemporary music, and they responded with energetic applause and genuine enthusiasm.
Think about it: If you're about to go out for the evening, and you're wondering how to spend your entertainment dollars, what are you apt to do? See The Dark Knight for the second time, or go see a new movie? Go hear someone who plays every week, or hear an artist who's never been to town? That's why the best way for us to continue growing the audience for classical music is to remind our listeners that this is a continually evolving art form. We have to make the experience truly memorable, so that when they leave, they'll say, "That was amazing! When can I come back?" And one of the best ways to do that is to give audiences something fresh, something they can't hear anywhere else.
In Nashville, we have a saying: "It all starts with the song." As we in the orchestra industry give thought to ways of reaching out to new audiences, maybe we need to adopt a similar attitude: It all starts with the repertoire. That doesn't mean we always have to program new music — it could also mean taking a fresh look at something beloved and familiar. Equally important is the idea that we approach everything we do with the conviction that we are about to take the audience on the most exciting journey of their lives.
More Contributor Goodies