When it comes to Take A Friend To Orchestra (TAFTO) 2009 contributions, listening is the new reading. Then again, why would anyone be surprised that someone with more than 30 years experience and hundreds of recorded interviews with classical musicians from all walks of life wouldn't want to put his TAFTO contribution in recorded format? So give your eyes a rest and your ears a workout, here comes Brian Bell…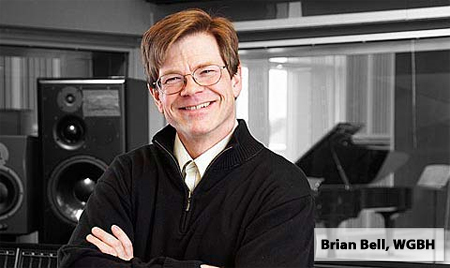 [audio:Bell2009TAFTO.mp3]
[spoiler name="For all those with a need to read, click here for the script"] "The artist came from a musical family."
A sentence like this usually is in the first few lines of most performer bios (that's when I'm still awake while reading them), and sometimes gives me a twinge of envy.
After all, I didn't come from a musical family, far from it, and such a statement implies that there needs to be some sort of genetic code for one to understand music at the highest level. That premise can be dismissed out of hand. Then again, TAFTO has made me consider the following, if I didn't come from a musical family, how did I get hooked?
The answer comes from my father's record collection, which I destroyed through incessant listening at an early age. Many years later, I learned that my mother was able to ascertain my wants by showing the cover art (couldn't talk very well back then) and then I would proceed to drive her nuts by wanting countless encores of the same record.
That record collection was a pretty amazing selection of solid performances, Szell conducting Beethoven, Toscanini's Rossini Overtures, Rubinstein playing Chopin, Reiner conducting Strauss. Which begs the question, how did the record collection start? Well, my father got through the University of Michigan by working at the Michigan Union, and would carry suitcases and instruments for the Philadelphia Orchestra when they stayed there for the May Festival. While working the night desk, he got to know the solo violinist Albert Spaulding, who must've given him quite an introduction to the world of music. Often, since my father's death nearly a decade ago, I think of the parallels of those late-night conversations with what I do now.
So how does one, you ask, get someone involved in classical music? Leave an iPod filled with Yo-Yo Ma performances sitting around for someone to discover (my parallel), or (my father's parallel) have Garrick Ohlsson sitting around in a hotel lobby to entice the audiences of tomorrow?
As one who can talk and think endlessly about music, both its conception and execution, I know that talking about music can deepen one's appreciation of the art. Think of the baseball fan who knows that the pitcher has trouble throwing a slider coming up against a batter who can't lay off the inside pitch, while the runner on first base tends not to go on a 3 and 1 count unless there's one out. Truly they get more enjoyment out of the game by possessing this knowledge in advance.
But I see it as something of an irony that all the theory, history, performance practice, whatever, all the musical knowledge in the world does not prevent one from experiencing the basic essence of great music.
Indeed, I submit to you that I probably enjoyed Strauss' Also Sprach Zarathustra every bit as much, if not more, some 50 years ago when the 16 inch transcription tone arm (mounted into a ¾ inch piece of plywood) fell onto RCA Victor LM-1806 (with the "shaded dog" label) enabling Fritz Reiner's Chicago Symphony to blast through an ElectroVoice 15 inch woofer parked up in the hat shelf in the front hall closet, ruthlessly powered by a Heathkit tube amplifier.
The thrill of the 600 square foot house rattling with raw emotion, well, how could one resist it? Compare that to now knowing that the music was inspired by philosophy of a rather flawed nature, containing horn parts that I slaved for scores upon scores of hours to try to master, played by musicians who absolutely feared for their lives under a conductor with a rather sadistic reputation? I surely understand the inner workings of Zarathustra far better than I did in early youth, but Strauss' Opus 30 needs no explanation for the enjoyment of music's immediate visceral appeal.
So if you are reading this, you have had that moment of thrill, haven't you? And think of all those who have gone through life never experiencing the best of Bach, Mozart, Stravinsky, Brahms or the opening pages of the Mahler 9th Symphony? Shouldn't they have that experience?
Well yes, they should. But the funny thing is, its like that horse and the trough. I've had varying degrees of success with my own family (see above), and as a result, have some thoughts. When you take that person to the concert (you WILL, right?) here are some things to consider:
Great music speaks for itself. It really does. That said, some will want to know what sort of person Beethoven was or if he wrote anything that is terrible, or whatever may come into their head. But depending on who is listening, they should only be given as much information as to help them open the doors to the composer's thoughts. I'm invariably amazed by the perceptiveness of people who supposedly know nothing about music, how much they truly understand.
A concert is an event. That is to say, if every baseball game had a winning grand slam in the 6th inning for the home team, well, that's not reality, is it? Neither you nor your guest should burden yourselves with the expectation that your lives will be forever altered. They might be — if the ears are open, and more important, the mind.
Music is like food. Very few of us eat absolutely everything, and as important, in equal quantities. It will be quite unusual if someone likes every last thing about a concert. I rarely do. But there is probably something
(the soloist, the opening work, the bassoon) that makes the listener take notice. That is the path to follow for the next time.
To close, I am reminded of Sir Thomas Beecham, who wrote the following in 1937, as Hitler's armies were gathering:
"The larger revelation of the transcendent gifts of Mozart is a crying need in our present condition of dubious culture and civilization. His spirit…. is made of that stuff which can provide the most telling and efficacious antidote to the chaotic thought and action…."
That time has past, but his words have resonance today, and not with just Mozart, but all music that's worth listening to.
[/spoiler]
More Contributor Goodies