When it comes to online pioneers, the folks over at NewMusicBox (or NMBx if you're hip) were already ahead of the curve before most even figured out there was something there. This month marks NMBx's 10 year anniversary, which is the equivalent to at least 50 years in real business time (or 350 years for dog business), and they've spent the past decade pushing boundaries and producing fantastic content…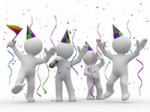 But beyond all their trailblazing, NMBx is a representative example of just how valuable a new media platform is to this business when implemented properly. Historically, composers have been the apex of the classical music field and it wasn't until fairly recent that music directors have been forcibly inserted into positions supplanting that authority. Fortunately, outlets like NMBx provide ample examples behind why this might not be such a good idea and why composers need to regain some of that influence.
So what are you still doing here? Go to NMBx and take a look around and make them a regular part of your online reading habit.