For my money, it doesn't get much better than reading an account of Joe Patti attending an orchestra concert. For those who don't know Joe, he's the author of Butts In The Seats and a fellow arts manager who runs a presenting theater in Honolulu, HI. Joe posted a piece on 9/21/2009 that reviews his experience attending a Honolulu Symphony performance featuring Bela Fleck, Zakir Hussain and Edgar Meyer performing Meyer's Triple Concerto for Banjo, Double Bass, and Tabla…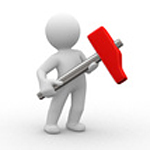 What I love about Joe's observations is just how observant he is of everything around him that contributes to the overall concertgoing experience. Like some sort of arts manager sponge, he soaks up everything he comes into contact with which ultimately contributes to a far more comprehensive picture of the event than would likely appear in print at a traditional media outlet.
The fact that Joe is more of a theater guy than an orchestra guy only makes his observations more useful to those of us directly involved in the orchestra business. If you're a marketing professional, artistic administrator, musician, or executive you had better take that time to read Joe's piece. In particular, don't miss the part about how something as simple as a website concert event listing can contribute to an infrequent concertgoer's level of mystification and overall concert experience (and therefore likelihood to purchase another ticket).
Fortunately, there are more of Joe's orchestra observations to go around than this one blog post. He wrote a pair of articles for the 2006 Take A Friend To The Orchestra initiative (part 1, part 2) and has a few other great orchestra concert related posts scattered through his blog.