Between 09/29/2009 and 09/30/2009, 14 professional Canadian orchestra websites were examined and ranked by how well they presented their concert schedule, sold tickets, facilitated making donations, provided organizational information, utilized dynamic content, and on functionality. Overall, the average Canadian orchestra website score increased in 2009 to an all-time high of 72.17 out of 100…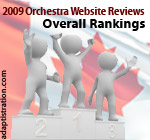 Canadian orchestra websites were evaluated using the very same criteria used for the US evaluations (available here) with one notable exception; the Canadian review does not include the Institutional Transparency sub category. This is due to differences between federal laws governing tax forms and public transparency requirements.
Keep in mind; the websites were not examined on the subjective basis of color schemes, graphics, or other aesthetic qualities except in cases where those elements hindered functionality. Consequently, the reviews are not only fair but based on a set of quantifiable criteria, allowing orchestras of varying budget size to be evaluated on an even playing field.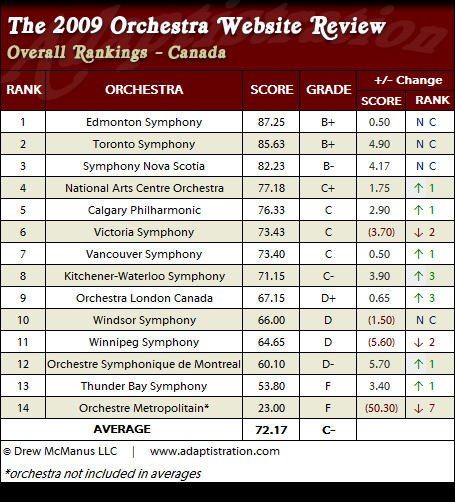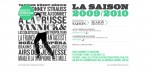 Notwithstanding the odd state of Orchestre Metropolitain's website, the majority of Canadian websites continue to offer strong fundamental components. Regarding, the decision to remove Orchestre Metropolitain from the overall Canadian averages, at the time of the review their website consisted of a single page that incorporated a pdf file download of the season brochure, an email link, and a donation link. There was a notice that the page was temporary but no information about when the permanent site would return.
Consequently, this was not entirely dissimilar from the bizarre situation in 2004 with the Knoxville Symphony's disappearing website and at that time, a similar decision was made to remove that group from the overall averages. In the meantime, Orchestre Metropolitain's score will remain a permanent part of their historic website review record.