When will folks learn that just because you give an interview in a non-English media outlet that doesn't mean word won't get back to the U.S.? The latest transgression instance comes from conductor Christoph Eschenbach who told Die Welt (English translation via Google) that he thinks the Philadelphia Orchestra management during his time there as music director was "incompetent" and that they "lie." He continued by reportedly accusing them of mismanagement that directly led to the orchestra's current economic condition…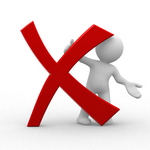 It isn't clear if Eschenbach is referring to James Undercoffler and/or Joe Kluger since both served as President of The Philadelphia Orchestra Association during his time with the organization. Nonetheless, it is clear Eschenbach harbors a great deal of animosity toward the organization and since he now serves as music director of the Kennedy Center and the National Symphony Orchestra (NSO), his comments could be construed as a form of defamation.
Whether or not damage control measures from Eschenbach, the NSO, or the Kennedy Center have been enacted are unknown and then again, the Philadelphia Orchestra might be too busy tending to the shop to allocate any resources to follow up on Eschenbach's comments. Time will tell.
In the end, perhaps the lesson here is that instead of letting your unfiltered feelings out into the general public via mainstream media, it might be best to tell your therapist.