For those unfamiliar with the expression "Dead Cat Bounce," it comes from the world of finance as a way to describe "a temporary recovery from a prolonged decline or bear market, after which the market continues to fall (source)" – even a dead cat will bounce if dropped from high enough. This phrase came to mind after reading an article by Jeffrey Sheban in the 3/5/2010 edition of the Columbus Dispatch that reports on a 16.6 % budget cut at the Columbus Symphony Orchestra (CSO) over and above the 28% cut from the previous season…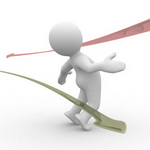 The cuts are achieved from a variety of sources including expected musician compensation concessions and reducing the season from 38 to 25 weeks but one area that should catch your attention includes plans to sub-contract most of the CSO's administrative staff. According to Sheban's report, the CSO is anxious to wrap up negotiations designed to outsource nearly every aspect of administrative responsibility.
Meanwhile, talks have been under way for several weeks to let CAPA [Columbus Association for the Performing Arts] handle finance, marketing, development and concert production for the orchestra.
Sheban also reports that CAPA, which owns and operates a handful of Columbus area venues, provides outsourced administrative functions for four other area groups (Franklin Park Conservatory, Contemporary American Theatre Company, Phoenix Theatre for Children and Opera Columbus). Although it isn't unheard of for an orchestral organization the size of the CSO to outsource certain divisions or even an entire administrative department, it isn't common to outsource multiple departments in full.
Questions yet to be answered include how outsourcing will impact the organization's ability to maximize contributed revenue if the professionals actively fundraising have similar fundraising responsibilities at several competing nonprofit arts groups; likewise for marketing efforts. Will board solicited fundraising efforts be curtailed through any sort of no-compete clause? Lastly, how will this impact the CSO board's duties and responsibilities related to oversight and stewardship?
At this time, a copy of the CSO's Strategic Restructuring Plan was not available via the organization's website although the organization did post a press statement on the matter.