Did you catch the 5/20/2010 edition of Bloomberg where Phillip Boroff reported that the New York City Opera paid Gerard Mortier a $335,000 severance package even though he never took over as the full time General Manager? Moreover, Boroff reports that Mortier regularly flew first-class on Air France for City Opera business. Granted, Mortier certainly negotiated his contract at what we now know was the height of the economic bubble but those are some awfully good terms…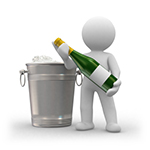 There's a poetic tinge here (or is it irony) in that Mortier resigned at the very onset of panic surrounding the economic downturn. So at the very least, Mortier's contract confirms that the world of nonprofit executive management didn't miss out on the golden parachutes and perks associated with the rise of the executive class. It also serves as a thought provoking juxtaposition against Michael Kaiser's recent Huffington Post blog post about executive burnout.
If nothing else, this is timely as it serves to remind everyone that the 2010 Orchestra Compensation Reports are scheduled to be published the week of 6/7/2010. This will be an exceptionally fascinating year of data as it examines the 2007/08 season, the last full season before the economic downturn.
Speaking of the Orchestra Compensation Reports, there are some MAJOR upgrades coming to the Premium version of the reports, available at Adaptistration Premium. Among other goodies, data tables currently displayed as images are going away for good and will be replaced by interactive spreadsheets allowing users to sort data by column as well as search each table for specific terms. Usability will skyrocket!