If you're looking for a good example of how to use a new media platform in the worst possible way, American Federation of Musicians (AFM) International President Thomas F. Lee provides the best example I've come across to date with a series of videos the AFM released on YouTube. Everything in this video from the complete absence of production qualities, patronizing tone of his voice, ill-fitting suit, and circa 1962 copy (that's only cool in Mad Men) is a gruesome train wreck of a product. But wait, there's more…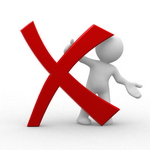 Although there's nothing wrong with reading from cue cards, they need to be at the same level as the lens. With his eye line a good foot below the camera, Lee's read is only outdone by his dead-pan facial expressions.
Normally, the video would be embedded below but this is so bad, one has to imagine the AFM won't leave this up very long and I don't want a dead video link in my blog if I can help it. Instead, I'll just post a direct link. Ultimately, Lee's videos serve as latest splash of gasoline on the growing bonfire of reasons why orchestra musicians should get the hell out of dodge and opt for a new collective representation solution (the other offerings are every bit as cringe inducing as the first, which leads me to believe the first wasn't just a shaky first attempt). For deeper insight into the actual message Lee is attempting to deliver, check out Ray Ricker's 6/8/2010 blog post.
If you want some frame of reference into just how bad Lee's videos are, compare them with a recent end-of-season video message from the Chicago Symphony Orchestra (CSO) president, Deborah Rutter. In many ways, the CSO's video is similar to the AFM videos in that they are designed to deliver a straightforward message about who they are, what's going on, and why you should care.
But that's where the similarities end. The CSO's video features Rutter sitting in her office and looking directly into the camera. Yes, she's reading her lines as well but they are going about it the right way and you really have to be looking for it to notice. Beyond that, the wealth of simple but effective production values (music, lighting, cut aways!) along with warm and friendly copy writing makes the video a solid example of how to effectively produce a new media video.
At this point, I'd love to show you the CSO video but this is where we hit the only snag in an otherwise solid product. There's no link to embed the video, which seems a bit odd since it also includes a direct fundraising request. Nonetheless, you can check it out at http://cso.org/ListenAndWatch/Details.aspx?id=11958.
In the meantime, feel free to post a comment with your observations about either video.