That's precisely what I told Jeff Karoub from the Associated Press yesterday when we were talking about the differences between for profit and nonprofit business strategies for dealing with a tough economy. One substantial difference is related to what I call the Fragile Powerhouse concept, which dictates that not only do performing arts organizations fail to benefit from laying off workers during down periods, but that course of action has a prolonged negative impact on overall artistic quality and institutional prowess…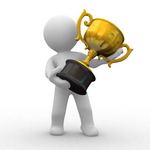 If you were to rephrase this from the for profit perspective, it would go something like this: whereas the time between when a factory hires back skilled workers to when it reaches optimum production output is relatively short, a professional orchestra can take a decade or more to regain lost artistic excellence.
I coined the Fragile Powerhouse concept back in 2007 and in an ironic twist, when I went back through Adaptistration's archives to review that post, I discovered that it was connected to a situation at none other than the Detroit Symphony Orchestra (DSO). Here's the original description:
Creating a destination orchestra takes decades to accomplish and is ultimately the result of several board and administration regimes successfully building on one series of accomplishments after another. Conversely, it only takes a season or two to tear much of that progress down and more often than not, you don't notice the cycle has even started until it is too late.

As such, destination level orchestras are not unlike a Faberge Egg: it takes an enormous amount of time and dedication to craft but only a few seconds to cause irreparable damage – the Fragile Powerhouse.
You can read more about what Karoub and I discussed in his AP article that went out on 8/30/2010. There's another good article in the 8/30/2010 edition of the Detroit News by Michael Hodges that includes some additional perspective from me as someone who spent a number of formative early childhood years growing up in Michigan. Hodges' article also presents an as-of-yet unseen look at the labor strife from the perspective of Detroit area business service organizations. All in all, both articles present some fresh angles on events and are worth your time.
On a positive note, the Detroit Symphony Orchestra unveiled a new website yesterday and although I have yet to conduct the 2010 orchestra website reviews, the homepage alone tells me that this looks like a big improvement over their previous user interface. The DSO players' (unfortunately clunky) website is located here. I'll offer some free advice for the latter: having the homepage automatically play a music file fell out of design best practice long ago. As such, you may want to tweak the design a bit and think about using a better publishing platform. If you do, I highly recommend using a local install version of WordPress along with one of the hundreds of easy to use, designer premium themes (like the type available here, here, and here). Since it looks like things may not wrap up any time soon, there's no better time than the present to implement the updates.