On 10/31/2010, the Detroit Free Press published an article by Mark Stryker that examines the role of Detroit Symphony Orchestra music director Leonard Slatkin within the month long work stoppage. In full disclosure, I would describe my professional relationship with Leonard to a degree that might be characterized as a conflict of interest so I'm not going to offer any personal observations but I will say that Stryker put together an excellent piece…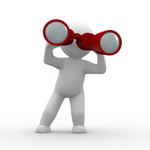 The unsurprising news in the Free Press article is that Slatkin is remaining mum for now on the dispute. The only public statement he has offered was excerpted in the article.
Slatkin, who last winter signed a two-year contract extension with a voluntary pay cut, last publicly addressed the conflict in mid August. He told the Free Press that he remained optimistic about the future and saw no reason not to consider another extension when his deal expires. "Right now, both sides have a long way to go, and my own attitude is positive regarding the high artistic standards of the DSO," he said before the strike.
Don't expect to see Slatkin break his vow of silence anytime soon but if the work stoppage continues for the remainder of the season, it wouldn't be surprising to see Slatkin cultivate new career opportunities. In other related DSO news, Marc Stryker published a second article on 10/31/2010 that provides a recap and update on the strike.
In short, not much has changed. Stryker includes a quote of mine and want to reiterate that it wouldn't be surprising in the least if they lost the entire season provided both sides remain firmly entrenched past the New Year. If that happens, the next waypoints to watch out for include the DSO's timetable for event cancellations as well as 2011/12 season planning and subscription sales campaign.
Lastly, and piece by Jennifer Guerra from the 10/28/2010 edition of Michigan Radio introduces a fascinating snippet from DSO board member Gloria Heppner who reportedly said "she doesn't think management's proposal is viable."
"Not if one wants to maintain a top tier orchestra it isn't," explains Heppner. "I mean, we're fighting for the maintenance of a first class orchestra. We could have a community orchestra, but that, believe me, is not what this is about."
Guerra wraps up the article with a conversation she had with the University of Michigan's Mark Clague, who regular readers might remember as a recent Adaptistration guest author as well as from my work with the University's American Orchestra Summit in January, 2010 (Inside The Arts hosted the summit blog, Enlarging The Circle).
Clearly, the DSO musicians and management are projecting all appearances of being firmly entrenched but if history has anything to teach us about labor disputes, it is that major breaks can happen without warning and a seemingly endless stalemate can suddenly change.