The 11/27/2010 edition of the Louisville Courier published an article by Elizabeth Kramer that sheds a little more light on the current financial situation within the Louisville Orchestra. According to the report, the orchestra has taken an advance from the local Fund for the Arts which allowed them to make last week's payroll but there are no details past that regarding where the organization stands on cash flow…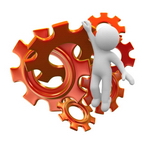 And in the immediate sense, that's likely the focus on the orchestra's administrative efforts. I talked about the relative impact of cash flow crunches in an article by Gabe Bullard in the 11/12/2010 edition of WFPL News and in an earlier article by Elizabeth Kramer on this topic, I mentioned it might be worthwhile for the group to consider getting a mediator in place now before either side starts to entrench. However, Kramer's 11/27/2010 article reports that although Michael Kaiser has agreed to offer assistance, the orchestra's administration decided against the idea for the time being.
"We believe that's the expertise that we could use no matter what happens here," [Robert Birman, Louisville Orchestra CEO] said, "but to come in right now is probably not the optimal time for that kind of discussion because we are still not yet in the place where we are seeing eye-to-eye. And there's still the potential that there will be courts involved."
Time will tell if this is an option that should be set aside at this juncture but finding avenues to keep both sides talking and mitigate the sort of entrenchment mentioned earlier might be an option that is worth a second look. In situations like this, one of the many bear traps to avoid includes getting sucked past the event horizon of self fulfilling prophecy.
In the meantime, you can follow public statements from the orchestra and musicians at:
Update: WFPL News published an article which reports an anonymous donor has stepped in to make certain the orchestra meets its upcoming payroll (details).