My wife and I have a little ritual when we go see movies: we like to sit through the end credits to see if the orchestra is mentioned by name. While watching the credits for True Grit (2010), it dawned on us that even in the rare instances where the orchestra is listed by name, we never see individual musicians listed…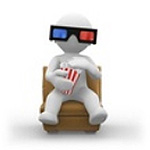 And seeing that just about everyone who even walked by the set during filming is listed in the credits these days; I went looking for an answer to why the individual orchestra musicians aren't included. I contacted Marc Sazer, President of the Recording Musicians Association whose reply demonstrates that the answer is a bit more dynamic than you might imagine.
"I can tell you that we tried for several rounds of motion picture negotiations (before my time) to get credit crawl for musicians without success," said Sazer. "Virtually every square centimeter of credit crawl has been negotiated by other unions at great cost. However, when we were able to negotiate into the contract provisions for the release of soundtracks that allowed a certain number of free units (which are promotional tools for the composer and helped incentivize composers to demand [American Federation of Musicians] coverage) in exchange for including the full orchestra credits on the liner notes or jewel case, an unforeseen benefit was that musicians were added to the credit crawl for a certain number of films that had taken advantage of those provisions. And, some filmmakers just have a thing about it; they like musicians, so, for example, Pixar will frequently list all of us in the credits."
So there you go; questions, answers, and closure all wrapped up in one tidy little blog post.