Anyone who has ever worked as a free lancer, consultant, or ran your own business will love this flowchart from Brooklyn based typographer and illustrator, Jessica Hische. Titled should i work for free? Hische provides an incredibly useful flowchart to help you figure out…wait for it… which pro bono jobs you should accept…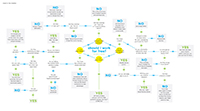 Ms. Hische's delightfully frank flowchart is easily adopted by business consultants, service providers, board members, and musicians alike so every stakeholder in this field can take advantage! Keep in mind, the chart has a few "adult" words sprinkled about so insert your favorite obligatory NSFW notice here before clicking the link to the full size chart.
Bonus: make sure you stop by Hische's blog, it's loaded with some really cool ideas.