Dear Terry,
I read your Wall Street Journal (WSJ) article from 4/29/2011 and feel that not only are your conclusions unfounded but your perspective on the business of performing arts organizations is becoming dangerously detached from authenticity…
But before I go any further, I have to apologize for posting the following tweet on 4/29/2011 shortly after reading your WSJ article: "I want to believe Teachout isn't an idiot. But it's hard to argue otherwise when he tosses out evidence to the contrary." Clearly, it was not as subtle as it could have been but it does adequately convey my bewilderment with the views included in your article.
The following passage from your piece is perhaps what disturbed me the most.
On April 20, the Philadelphia Orchestra filed for bankruptcy.

That last event sent shudders up and down the spines of every classical-music manager in America. The Philadelphia Orchestra is universally regarded as one of the world's half-dozen greatest orchestras. If it can get into a hole so deep that bankruptcy is the only option, then no orchestra is safe.
I'm certain everyone is aware that you are a well connected figure within the arts world but I find myself wondering how often you actually talk to arts managers. I communicate with managers from all budget size institutions each and every day. I can't recall the last time a day passed that I didn't receive a call, text message, email, or social media message from an orchestra manager and although just about everyone is talking about Philadelphia, very few are experiencing the shudders you attribute.
I believe the word you were actually looking for is "perplexed."
They're puzzled by why an organization with debt levels that are not outside the extremes within the business right now, sizeable assets, and such a tremendous international reputation would risk so much for something that is manageable.
Likewise, encouraging stakeholders to turn a blind eye to accountability during periods of economic downturns will only make matters worse. In short, a lynch mob does no good but the mistakes of the past continue to matter a great deal. And if the same decision makers who made one series of bad business choices after another are exempt from oversight and accountability, well, we all witnessed how well that system worked out for the financial sector a few years ago.
I also get the sense that you may not be as familiar with orchestra executives as you believe because if you did, you would understand that one of their greatest challenges is balancing the far leaning political ideology among board members and artists in such a way that it doesn't have undue influence on strategic planning and labor relations.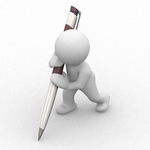 If you took the time to conduct a thorough examination of the entire field, you would find a set of common themes throughout every organization that is weathering the current economy: mutual respect, accountability, transparency, and shared vision.
Consequently your one dimensional "blame the unions" rhetoric will only serve to agitate overzealous anti-labor bullies and paranoid conspiracy theorists alike and whet their appetite for the mother of all labor fights. Fortunately, those groups comprise the fringes within any institution but they can quickly hijack the organization if prodded into action, which is precisely what your article manages to accomplish.
I was also bothered by the fact that you failed to mention the Philadelphia Orchestra musicians' response to the bankruptcy announcement; specifically, that they were not going to go on strike unless the institution enforced an unratified collective bargaining agreement (as was the case at the Detroit Symphony). Yet you went on in your article to wag a limp finger at artist unions as the cause for so much of the trouble throughout the field.
Let's set aside for a moment that the sort of stereotypical labor leaders with sweeping power the likes of James Ceasar Petrillo are as dead as the dinosaurs. Granted, I have no reason to believe you have studied the history of artist unions in the US alongside the evolution of arts management but you need to know that the "High-culture unions that fight to hang on to an untenable status quo" you describe in your article simply don't exist.
Instead, the respective artists within each performing arts organization have far more control over deciding their own terms. And there are far more instances than not of artists working with their management to help manage debt and build confidence, like the Metropolitan Opera example you included. But even then, the way you phrased that example is cause for alarm.
In 2006, the Metropolitan Opera persuaded its unions to agree to forgo upfront payments for recordings and broadcasts in return for a revenue-sharing deal.
I added emphasis to the word persuaded because its very nature establishes a negative context: the musicians were obstinate and managers had to convince them to do something they didn't want to do. This makes me wonder if you have taken the time to speak with any of the actual managers or musicians involved in the direct negotiations. If you did, I believe you would have had an easier time finding the correct words.
Does this mean artist unions don't contribute to problems within the business? Of course not, there are plenty of faults within their system but they are rarely guilty of the sorts of stereotypical transgressions you've ascribed.
I believe you need to learn more about the actual labor environment within the arts field: what works, what doesn't, and how it really needs to change.
Consequently, I'd like to invite you a presentation I'm giving in Chicago this Saturday, 5/7/2011 as part of the TEDx Michigan Ave event. I'll be talking about labor relations within the context that you covered in your article. I understand that this is short notice and your schedule is always full but you need to attend this presentation. It is worth rearranging your schedule and flying to Chicago plus it would be my pleasure to be your host for dinner that evening in addition to setting aside a ticket for you to the event.
Your friend and colleague,
Drew McManus