On Sunday, 7/24/2011 I had a good bit of fun as the guest on SoundNotion.tv, the new music and music news video podcast. The topics were quite diverse and as always, the SoundNotion hosts (David MacDonald, Sam Merciers, and Nate Bliton) were their regular inquisitive/challenging/edgy selves; simply put, they are an interested and interesting group.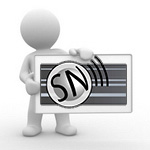 In particular, we discussed recent events at the Louisville Orchestra and Philadelphia Orchestra as well as the good news surrounding Toronto Symphony's tSoundcheck program. It's also worth noting that although it has been awhile since we checked in on that program, we were covering it as far back as 2004 as a worthwhile program other groups should use as a model. You can find most of those articles via the Toronto Symphony article index (skip past the website review entries).
We also talked about the controversial album art for Steve Reich's upcoming CD (personally, I don't have an issue with it), the potential impact of Borders' closing on classical music CS sales, and more.
I have to admit that doing the Skype video thing as a guest appearance is fantastic. It's convenient, provides better interaction for the viewer, and the SoundNotion crew is steadily working out the technical kinks that define the inherently complex functionality of Skype video conference calling. So all in all, it produces a good final product.
Head on over to SoundNotion.tv for the entire episode.