Community event calendars. Anyone who has had to tackle the task of designing and populating a community calendar knows how much of a pain in the tuches this seemingly straightforward task really is. Those pains are due, in large part, to the complete lack of standards related to how organizations create their respective calendar events, and that needs to change.
Without going into too much geek-speak, the problem centers around how much time and effort it takes to create and maintain an accurate cultural events calendar because even though there are a number of ways to make it extremely easy for arts groups to enter their events into a central system, it doesn't negate the fact that it takes time; a resource which exists in increasingly diminished supply (and we all know the horse and water adage).
So the only other option is to have a real live person on the concert calendar side of things absorb the data entry duties along with applying event updates throughout the season. If that seems like a reasonable solution, then ask yourself why so many cultural event calendars operated by local newspapers have disappeared or gone fallow.
Fire and Forget

Ideally, a system would exist that can automatically harvest basic event details (who, what, where, when plus a source link) and enter that data into the central calendar. That part sounds simple but it's where the show falls apart due to the complete lack of event management technology standards among performing arts groups and presenters.
Right now, it's like a virtual Tower of Babel; there's no uniform way organizations enter and display that basic data so different systems can't speak to one another.
Not only do organizations have their own internal event management systems to display event details via their website, those who don't own and/or operate their own box office platform have to deal with those secondary systems. In a nutshell, it means they end up going through the data input process for each event no less than two times via two different systems.
So it is no wonder that there isn't a lot of excitement to get behind an idea that requires yet one more round of tedious data input.
Simple is Good
At the same time, the answer is pretty straightforward: the arts field needs to establish a set of technology standards to produce recommended coding guidelines for items unique to the business of presenting live events.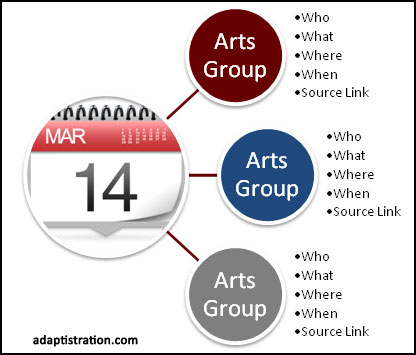 Standards would be vetted by a panel of authorities comprised of leading technology providers along with outside specialists.
The real trick it making it worth everyone's while. Sure, it would seem that an overriding common interests would have brought these parties together in the first place but conventional wisdom is funny in that it rarely typical or wise.
Ultimately, something will need to exist to sweeten the deal and facilitate buy-in and this is where a number of options exist such as philanthropic support, for-profit sponsorship, or a combination of both. The only important aspect that needs to remain in place is the technology standards panel must remain independent and autonomous of any undue pressures that would ultimately limit coding advancement or favor any existing proprietary platform.
The end result would produce coding standards capable of generating something like a robust and accurate community events calendar that is populated automatically while simultaneously not requiring any additional data input on a per event basis from participating organizations. Equally important is making sure organizations don't have to rip apart and rebuild existing event management systems in order to take part in the bigger picture. The good news is it's entirely doable, it just needs some guidance and incentives.
But we can't get started unless we start talking about it.