It's almost as if the Louisville Orchestra (LO) has punched the reset button when it comes to labor dispute tactics, thereby placing both sides all the way back to square one; do not pass go, do not collect $200. In particular, the orchestra announced on 8/24/2011 that it has cancelled all concert events through the end of October, but the real indications of regressive mindset are buried in the statement they released announcing the cancellations.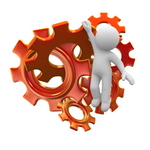 In particular, the statement is filled with Labor Dispute 101 rhetoric blaming the decision on the American Federation of Musicians' decision to place the orchestra on its Unfair List, thereby prohibiting any opportunity to resolve the dispute. In actuality, both sides could settle the dispute any time they want, provided they come to terms on a new collective bargaining agreement.
Historically, the AFM has removed orchestras from their Unfair List no more than a day following the successful ratification of an agreement. So this isn't a chicken or the egg conundrum, it's actually a very simple matter to resolve; both parties need to agree on contract terms and the musicians and board need to ratify the document. Consequently, the Unfair List status has absolutely no bearing on that process.
The Red Herring Timeline
All of this nonsense started on the day the bankruptcy court approved the LO's reorganization plan, here are the major events that took place since then:
LO CEO, Robert Birman, told local reporters that although the orchestra pledged to negotiate with the AFM toward a new work agreement it would also reserve the option of employing musicians under a non-union work agreement. [sws_css_tooltip position="center" colorscheme="rosewood" width="450″ url="http://www.polyphonic.org/blog/2011/08/louisville-management-arms-tsar-bomba" trigger="related point" fontSize="12″]According to Robert Levine at his blog on 8/23/2011, Birman testified in a bankruptcy court proceeding "that the LO Board had authorized him to hire replacement musicians in the event negotiations with the LO musicians were unsuccessful." [/sws_css_tooltip]
Citing Birman's public statement about hiring non-union musicians, the AFM places the LO on its Unfair List.
In response to being placed on the Unfair List, the LO cancels concerts through the end of October along with issuing a statement self fulfilling prophecy that reaching an agreement is precluded by being placed on the Unfair List.
Predictable Is As Predictable Does
Another generic component in the 8/24/2011 LO press statement is the assertion that the orchestra believes the musicians want to return to work under the conditions they have offered but sinister forces are thwarting their desire (melodramatic tenor intended).
"While we believe that local musicians wish to perform, the musician's bargaining unit and their Union are forbidding their own members from showing up for work. What this means is that a resolution to our labor impasse is not imminent.  As a result of these actions, and with no genuine indication that the Orchestra's musicians will return to work for the start of the season, the Orchestra has been forced to cancel its September and October concerts at this time."
Hopefully, that sort of statement will make your head hurt as it's bursting with more of the same self fulfilling prophecy minded attitudes which all but guarantee things will get worse before they get better. Simply put, if the musicians are so inclined to work but the union is standing in their way, they can simply resign from the AFM and avoid the prospect of any fines or related penalties for showing up to work.
Not Another Detroit
In case you might be thinking this situation could play out like the labor dispute in Detroit, think again. One of the key differences here that will likely influence musician [sws_css_tooltip position="center" colorscheme="rosewood" width="450″ url="" trigger="resolve" fontSize="12″]remember, the Detroit musicians eventually caved to the vast majority of management demands [/sws_css_tooltip] is the current LO offer moves the musicians from earning a modest living wage to earning less than the Federal poverty threshold.
It would be surprising, if allowed to continue unabated, events have any impact among the LO musicians other than increased resolve to the point of moving the orchestra toward liquidation. As a result, don't be surprised if things drag out longer than they did in Detroit.
Unstoppable Force, Meet An Immovable Object; Immovable Object, Meet An Unstoppable Force.
So What's The Point? If the LO is resolved not to go beyond their current offer or any other zero sum modification based on the court approved bankruptcy plan and the musicians are resolved to an equally deep line in the sand, why bother. Why lose sleep, damage reputations, and create even uglier institutional scars?
Hopefully, the fact that both sides haven't wrapped it up is an indication that this is all a bunch of needless brinkmanship. At the same time, it could also be an indication that times are changing and the LO board is spoiling for a non-union fight unlike anything we've ever witnessed by setting into motion events that lead to hiring non-union musicians.
Since I'm an optimist, I'd like to believe this is all 101 level brinkmanship resulting from the bankruptcy court decision. Of course, it is a shame that mutual respect and professionalism have yet to dominate discourse and actions but that's what you can expect when agendas and politics get involved.
Speaking of getting involved, the Louisville Courier-Journal reports that Louisville mayor Greg Fisher met with all parties yesterday with the goal of learning more about what divides both sides. My guess is it won't produce much since both sides aren't likely to explore real motivations behind their current actions. At the same time, it will hopefully serve as a first step toward reaching that point.
Are events from this week an indication that things are getting better in Louisville, are they a sign that things a degrading, or is it something else entirely? What do you think?
The Louisville Orchestra Announces Cancellation of September and October Performances
Musician's Union Threatens to Fine Musicians Willing to Work
Louisville, KY ( August 24, 2011 )… While gratified by the U.S. Federal Court's affirmation this month of the Orchestra's plan of re-organization, ending the bankruptcy of the 75-year old organization, the Louisville Orchestra's Board of Directors regrettably this week has been forced to cancel a portion of its fall concert series as their musicians remain unwilling to work.
This week the musician's union in New York formally threatened to fine union members if they show up to work – a move that Orchestra management and the Board of Directors says is regrettable and not conducive to delivering a platform for a healthy future, nor great music to the citizens of Louisville.
"Progress on our labor negotiations is on a distant and predictable path," says Orchestra CEO Robert Birman. "While we believe that local musicians wish to perform, the musician's bargaining unit and their Union are forbidding their own members from showing up for work. What this means is that a resolution to our labor impasse is not imminent.  As a result of these actions, and with no genuine indication that the Orchestra's musicians will return to work for the start of the season, the Orchestra has been forced to cancel its September and October concerts at this time."
Due to contractual obligations with guest artists and concert venues and to provide patrons with ample forewarning, the Louisville Orchestra Board of Directors has formally adopted a policy to provide a 60-day advance cancellation notice of scheduled concerts and musicians were notified of the policy this past summer. Six concerts in all, including Pops, orKIDStra, Coffee and Classics series will be affected. Guest artists who do not appear on scheduled concerts this year have agreed, in advance, to be re-engaged for a future season.
Orchestra officials have offered and agreed to enter into mediation, a process that has been underway for a number of weeks.
"The Orchestra is offering employment for $925 per week plus benefits," says Birman. "That is a highly competitive wage for any professional musician and precisely the same weekly pay scale that all parties felt was acceptable for the entire season last year."
Board Chairman, Charles Maisch says, "While we sincerely wish we could count on significant increases in annual income year after year in order to maintain the cost structure of the past, it is not prudent or responsible to commit to a labor contract that our community cannot reliably afford."
All subscribers are to receive notification by mail of the cancellations with options for refunds on August 25. The Orchestra escrowed all ticket sales monies this spring, in an effort to honor its refund policy in the event that concerts were cancelled. More than $360,000 in season tickets have been sold for the upcoming season. The season-opening concert was to have taken place on September 10, 2011.
Future updates will be posted on the Orchestra's website.
The Louisville Orchestra, Inc. (LOI) has issued a new press release that takes its spinning of untruths to new lows while dealing a sucker punch to the public as well as its musicians by cancelling the first two months of the Louisville Orchestra's 75th Season less than two days before a mediation session being convened this Friday by the Mayor of Louisville. Contrary to LOI management's fanciful assertions, Louisville Orchestra musicians do want to work and do want to present a season – and we've been negotiating to get a fair contract and go to work at the beginning of the season in early September. We've been met with diminishing offers from LOI at every step. Now we are working through a trusted city mediator who is trying to get the parties to a resolve.
Instead, today, without notice, without even a phone call, management just canceled the first two months of the season –seventeen performances, including our Fanfara and the Kentucky Opera. These performances are really important to our season subscribers, and now they're gone. They're important to Louisville. It costs us work, but it costs the fans more. We don't understand how LOI can negotiate while at the same time it is destroying the organization's standing in the community. Management is trying to make it look like there is a strike by blaming the American Federation of Musicians for musicians "refusing to work." There is no strike! The LO, Inc. canceled the work: if anything, it's a lockout.
Louisville Orchestra musicians want to work. But we can't work part-time. Mr. Birman claims to offer employing 71 musicians. The reality of the offer is for only 40 musicians to have 30 weeks' employment at $925 per week (which as it isn't truly "full-time"), for 18 musicians to have 20 weeks at the same weekly rate, and for 13 musicians to have only 10 weeks of work. This is not full-time work for a full-time orchestra, and it doesn't work for presenting a season of symphonic performances. We aren't part-timers, and though it may seem odd, we literally can't take other part-time jobs. Orchestra work comes at irregular times- mornings, afternoons, evenings, nights, and weekends. No one week is the same as another, so we can't pick up other regular, part-time work. We can only do one job, playing our instruments, and that job has to be enough to pay the bills. We'd work tomorrow for the same as we had last year and under the same contract, but management won't allow that. It erroneously believes that it can successfully starve its musicians into submission and deliver to the community a far inferior product – and yet maintain its position artistically and financially. Give us a chance to work now for what we had, and we'll keep negotiating for the future.
Musicians didn't cancel these fall concerts — we couldn't. Management did — only it controls the schedule. This is hard on our fans, and we don't blame them for being upset. We're upset, too. It is not a decision we made, or would ever have made. Since LOI management put the season in jeopardy, we ask the people of Louisville to step in to help, to speak up.
Louisville is an arts town, but won't continue to be an arts town without an orchestra – a real orchestra, of the high caliber that has earned Louisville a worldwide reputation. There's still time to fix this before management does any further damage. We'll work; just give us some concerts to play, and a living wage.