It's always fun when two divergent steams streams of thought coincide to produce something intriguing. Case in point, I recently joined the board of directors for a period-instrument orchestra here in Chicago, The Baroque Band, and shortly thereafter hopped on board a local dinner club/think tank (DCTT) that was the brainchild of Amy Calhoun, A.K.A. the Ticket Maven, for Chicago area arts professionals.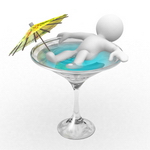 On the Baroque Band side of things, one of my responsibilities as a new board member is to help refine their online presence and maximize the scope and efficiency of technology based solutions. To that end, I've been thinking about creating an e-program notes microsite for their masterworks concerts in the venues where they leave the [sws_css_tooltip position="center" colorscheme="rosewood" width="450″ url="" trigger="house lights on" fontSize="14″]Encouraging patrons to use their Smartphones in a darkened hall is a non-starter for me if for no other reason than the increased potential for inadvertently annoying surrounding patrons. [/sws_css_tooltip] during performances.
In addition to all of the expected content (pretty much everything you would find in the print version) I'm spending some time making a concerted effort before the concert begins to notice what I tend to think about that also has a connection to the ensemble and/or venue. As it turns out, one item I'm always curious about is what they are serving at the concession stands and how much it costs. Do they carry a brand of gin I prefer? Do they have hot tea and if so, which varieties? What sort of snacks are available? Can I pay for them in advance from my phone? Etc., etc.
When I tossed this idea out to Amy Calhoun and Vin Reed, my DCTT companions, it generated some intriguing feedback so I plan on running with it for a couple of reasons: a) it's a fun idea and b) it's a comparatively easy task to implement and track. Thanks to Amy and Vin for coming up with some good thoughts and observations vis-a-vis implementation as well as some other nontraditional program book items to consider besides a connection with concessions.
Consequently, I'm curious to know if anyone else has been experimenting with an online version of program notes that reach behind traditional content. If so, what are you up to and what sort of outcomes are you encountering? If you have a URL that illustrates your work, thank you in advance for sharing.