On 1/25/2012 we examined a developing situation in Virginia about a state delegate from Richmond, G. Manoli Loupassi, who was proposing legislation (HB 1254) that would prevent professional orchestra musicians from collecting unemployment benefits during weeks they were not employed. One unanswered question at that time was how Loupassi became involved in the matter to begin with but we now have an answer.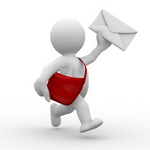 According to an email message from Rep. Loupassi in response to a constituent's inquiry on the matter, the issue was brought to his attention by the Richmond (VA) Symphony Orchestra (RSO) executive director, David Fisk.
A copy of the email thread appeared in my inbox shortly after the original article was published and since then, I have confirmed the content with Rep. Loupassi's constituent who initiated the exchange.
From: Manoli Loupassi [mailto:manoli@[addresss removed].com]
Sent: Thursday, January 26, 2012
To: [Name Removed]
Subject: Re: HB 1254
This information was brouht [sic] to me by Mr. Fisk at the Richmond Synphony[sic], if I am made aware of any abuses, I will seek to address them. I appreciate your thoughts. Manoli
I contacted David Fisk for a response to Rep. Loupassi's message indicating that he was the individual who brought this to his attention but at the time this article was published, he has yet to respond. If he does by the end of business today, his reply will be published as an update to this article, if it arrives afterward, it will be published as a follow-up article.
At this point, it's safe to say that the revelation inspires more questions than it answers; so until those transpire, what are your thoughts and observations? Do you have any questions beyond those above?
I encourage everyone so inclined to leave a comment but please keep the discussion civil and refrain from personal attacks or presenting opinion and/or unsubstantiated information as verified facts. There's nothing wrong with asking tough questions, offering up opinions, or engaging other readers with straightforward replies but be very clear and always opt for the high road throughout the conversation.