It seems the labor relationship between the Richmond Symphony Orchestra (RSO) board and musicians has, perhaps unsurprisingly, taken a downward turn following a board letter from 1/28/2012 that articulated their role in crafting and advancing proposed legislation that would bar orchestra musicians (including those in the RSO) from collecting unemployment during non-employed weeks throughout the season.
In response to the 1/28/2012 message, the RSO Musicians delivered a letter addressed to their full board which articulated a considerable amount of displeasure with not only the board's decision to craft the unemployment legislation but how the situation was handled.
Pot? Kettle?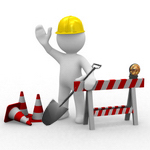 In particular, the musicians singled out the board's desire that this matter would not lead to "a public war of words" by pointing out that the only public statements on the subject came from RSO executive director, David Fisk, when speaking on the record with a reporter from the Richmond Times-Dispatch.
Moreover, as a representative example of their continued good faith, the musicians contend that they refrained from public statements "…even last year when our management broke the law by breaking our contract."
As a result, the musicians finished their letter expressing a sense of betrayal at being taken advantage of but came short of making any specific requests other than a hope that the board would adopt an approach founded on "integrity, trust, transparency, mutual respect, [and] empathy" when moving forward.
[sws_toggle1 title="Click to read the complete RSO Musician letter."]
From: [name removed] <[address removed]@[address removed].com>
To: [address removed]@[address removed].org
Sent: Sunday, January 29, 2012 1:25 PM
Subject: Please forward to Board Members
Dear Board Members of the Richmond Symphony,
We cannot begin to express how upsetting this past week has been. The reasons are numerous. A bill was introduced singling out our very profession, seeking to eliminate our right to unemployment benefits. For many, losing this benefit is a very real threat to personal economic survival.  Many musicians earn less than a living wage, and unemployment benefits veritably help them make ends meet.
What's profoundly more disturbing is that our own management and board created this.  We could not feel more undermined and devalued.  This is indeed a personal hit directed at us, all while displacing responsibility to the state.  This money-saving tactic impacts not only us, but musicians all across the commonwealth not even employed by the RSO.
We note from John Braymer's letter the warning that you do not "want to have a public war of words, which can only damage relationships further". We must note back to you – we have NOT engaged in any public war of words. The only publicity is directly from David Fisk to a reporter, highlighting the financial burden.  Needless to say, we are now perceived by the public as undeserving people who have been gaming the system to our own financial gain. In fact, we, like all workers, are entitled to this benefit in the weeks that there is precisely a "Lack of work".
No, we have not partaken in any public war of words – even last year when our management broke the law by breaking our contract.  We had good reason to alert the media and call them out.  But we knew that any negative publicity would be a bad reflection on the RSO.  It's unfortunate that David Fisk did not extend that courtesy or wherewithal when talking to the press.
Our Core Values unite us as a Symphony family:
In Harmony of Purpose – Integrity, Trust, Transparency, Mutual Respect, Empathy

After all the time in Mellon workshops working on cooperation, and our own Strategic Plan as just quoted, the events of this past week are, quite frankly, despicable. We cannot help but feel thrown under the bus by our own organization.
We're well aware that you are entrusted to keep the RSO funded and balance the budget.  We know that finances are tight.  We see the cutting and trimming of the very flagship series that defines the organization. We wish to encourage you to look at the successes out there, because there are many thriving orchestras around the country!  We hope to follow their example, not continually cut artistic output, following a path that has proven to lead to failure.
We value the board and the work that you do, and hope that in the future we are able to work through our issues internally. We respect your dedication and devotion to the RSO, and appreciate that the symphony couldn't operate without your leadership.  We hope that you, too, recognize that the symphony doesn't exist without musicians.
Sincerely,
The Musicians of the Richmond Symphony
via the Musician Committees
cc:  RSO Musicians
RSO Musicians website
[/sws_toggle1] [sws_divider_small_padding]
Not So Fast
Two days later, Braymer responded with an email message that raises the stakes by levying accusations against the musicians which were similar to those from their letter. In particular, Baymer describes a sentiment of frustration among the board, as it relates to their relationship with the musicians, as purposely self-defeating.
[sws_toggle1 title="Click to read the complete RSO Board response."]
Date: Tue, 31 Jan 2012 16:50:12 -0500
From: [address removed]@[address removed].org
To: [address removed]@ [address removed].com
CC: [address removed]@[address removed].com
Dear Stacy:
Thank you for your note. I understand your perspective on the situation; believe me that we would not have raised this issue with the General Assembly if the seriousness of the financial situation did not warrant it. The Board needs to review every area of expense, both inside and outside its control, in order to keep the organization afloat. Our goal is to preserve your jobs, first and foremost, by ensuring the Symphony's continuing viability.
You are frustrated and disappointed with Board and management; and we too have had our fair share of frustration and disappointment with the musicians in the last few years, by your seeming reluctance to work with us in a timely manner, through the Board Committee structure and in union negotiations. It is unfair to blame management because it took until March 2011 to reach agreement on the modification to the Master Agreement that was formally requested in July 2010 and necessitated by our financial situation. We had no desire to breach the contract; it was forced upon us by the needless protraction of discussions over nine months!
I also want to make a note in response to your comments about the Symphony's management. David Fisk works under the Board's direction as does Steven Smith. Both David and Steven find themselves in very difficult positions at present, yet both care deeply about the Symphony and are doing their utmost to lift the organization through these very challenging times. All of us are doing it with the interests of the orchestra as a whole at heart.
While I welcome and encourage dialogue between musicians and the Board, I sense that continuing it by email is not going to satisfy either group sufficiently. Let me make some suggestions to you. As I have assured members of your Negotiating Committee on several occasions, I respect the Union's role as a partner and the Board has no intention of seeking to go around it; we have now begun contract negotiations and we will observe the formal process involved. The Board will not conduct discussions with the musicians about financial issues except through the negotiating process.
Yet that does not preclude us from having a broader dialogue about Board-musician-management relations, about our shared goals and about the internal atmosphere in which we want to work together. So let me propose the following:
In the modification agreement of last March, both parties committed to having an organizational meeting approximately twice a year, to review progress in our various fundraising initiatives; we have not done that and should do so.
I also propose a meeting of the leadership of the musicians' committees with David, Steven and myself, to agree how we communicate and to seek to preserve organizational relationships through the next six months and beyond.
I also

urge

you once again to send two representatives to the Board's Committee meetings, as you committed to do, covering Finance, Advancement and Capitalization, as true participants not merely as silent observers. We have appreciated [musician name removed] attendance at the Finance Committee and at one Capitalization meeting, but the musicians will be better informed as a group and a better partner in our endeavors when you send representatives who are authentically engaged in working with us on a consistent and timely basis, asking questions, joining in the discussions, and helping identify new opportunities.
By the end of February, we shall know the fate of the unemployment measure. Whether it fails or passes, there will be consequences, and we must collectively find a way forward, through the remainder of the negotiating process. While I understand the concern of the musicians whom this one bill may affect, the overall financial realities with which we are wrestling are much larger and more complex than this single measure alone. That is the larger challenge we need to face together. I will look forward to your response to the suggested meetings above that will provide the background for collaborative problem-solving that I think we all desire.
Sincerely,
John
[/sws_toggle1] [sws_divider_small_padding]
What's worth noting is the final paragraph where Braymer indicates that the ensuing negotiations may be influenced by the outcome of the proposed unemployment legislation. Implying that the board may adopt a considerably tougher negotiation position if the contentious unemployment legislation fails while simultaneously requesting a framework for "collaborative problem-solving" outside the bargaining process is something that, at best, might be considered a high risk approach and at worst, an empty gesture.
Conclusions
In its current form, it appears that this labor dispute is defined by offenses (either real and/or perceived) while both sides await reconciliatory action from the other. It also seems that there is little hope for negotiations to progress very far over the course of the next month until the fate of the proposed unemployment legislature is finalized.
So what do you think as an outside observer; based on the exchange of communication to-date, is there reason to believe that the current negotiations could have started off on a better foot? Do you think there are any lessons to be learned at this juncture?