There hasn't been much news about the Louisville Orchestra (LO) work stoppage in the past several weeks following the board's empty gesture for arbitration and the subsequent musician rejection, but it seems that the LO is forging ahead with a previous plan to hire replacement musicians. Following a rocky start with advertisements in a series of craigslist outlets and direct appeals, the latest incarnation comes in the form of Facebook and Google ads.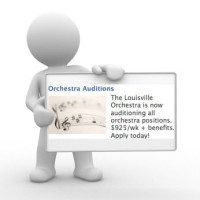 Both advertisements point to a page at the LO website which features a jpg flyer with the same basic details that were included in previous versions. Likewise, there is no information about when and where auditions intend to be held nor are there any details such as required repertoire, the composition of the audition committee, starting dates, etc.
Perhaps unsurprisingly, the recent attempt to solicit replacement musicians is being met with an equal amount of resistance from the existing LO musicians and their supporters via a variety of social media outlets.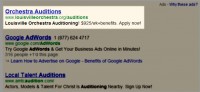 So at this point, it seems not much has changed beyond the LO's latest incarnation of replacement musician recruitment efforts. To date, the LO has been tight-lipped on details surrounding the quantity and/or quality of applications they've received but if the Kentucky Opera's replacement orchestra [sws_css_tooltip position="left" colorscheme="rosewood" width="450″ url="" trigger="results" fontSize="14″]Which consisted predominantly of high school and college students alongside non-professional instrumentalists. [/sws_css_tooltip] are any indication, finding enough replacement musicians is an unlikely outcome.