An interesting email message came in from a regular reader yesterday asking about the Delaware Symphony Orchestra website. "I can't find anything at their site about staff members, board members, or musicians. Do you have any of that info?" The reality is that information is likely still available via Google cache and here's how you can find it.
Using Google To Find Content That Has Been Removed From A Website
Go to www.google.com and do a search for "site:delawaresymphony.org", the results should pull up every webpage Google has stored in its massive cache for that domain name. Here's what I found in my search: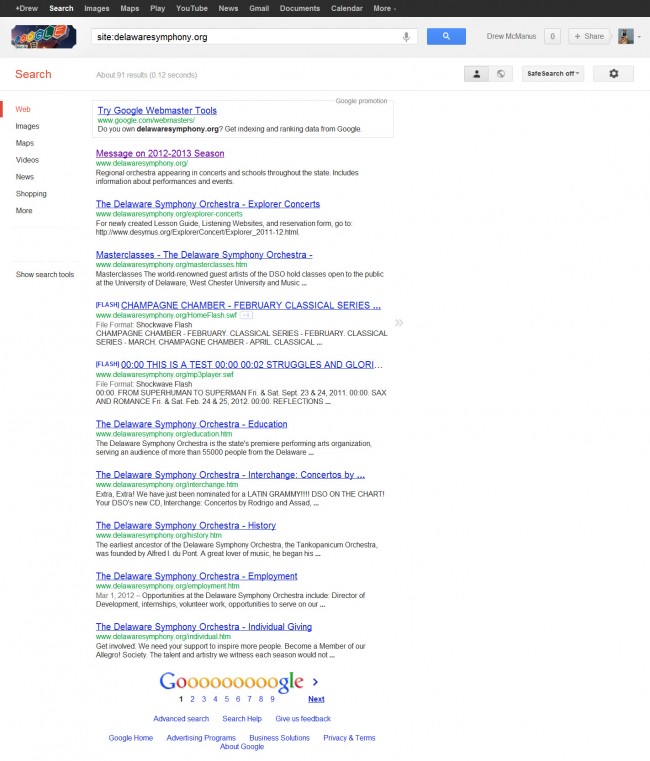 I didn't see anything on the first page about staff members, board members, or musicians so I clicked through to subsequent pages and found the board of directors on Page 2, staff on Page 4, and musicians on Page 6.
In order to see what sort of content Google has stored in cache:
1) Hover your mouse over the search result and look for the gray double greater than arrows, move your mouse over the arrow and an image of the page in question will appear: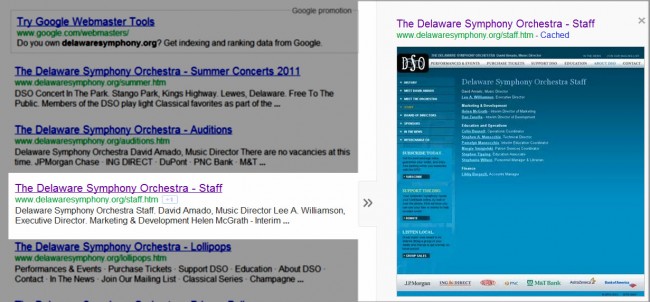 2) Click the "Cached" link above the screencap and you'll arrive at page that looks incomplete (and in that sense it is, because the stylesheet has been deleted):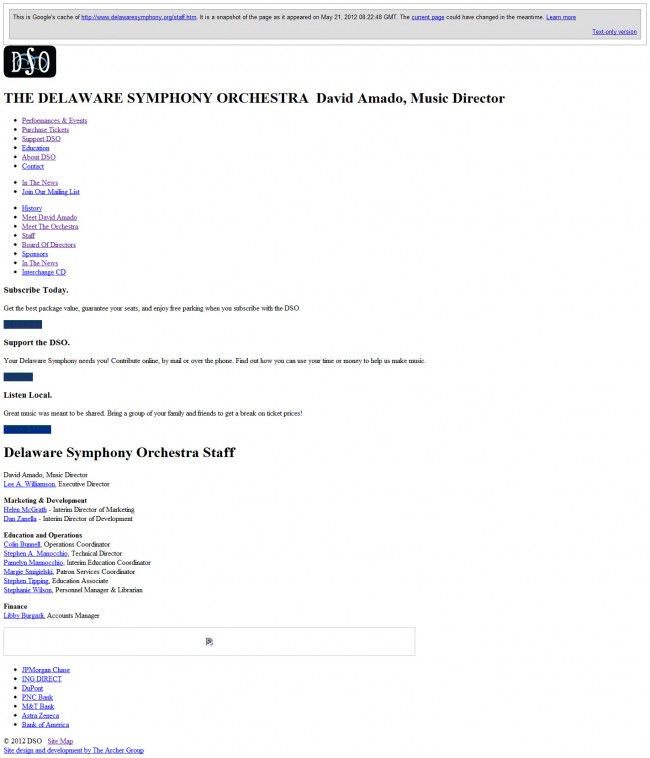 So there you go, just be sure to use this knowledge responsibly. And in an effort to balance the universe, here are instructions on how to hasten the end to pages living in Google's cache limbo.
Removing Content From Google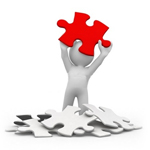 Now, this process is far more laborious than finding something in the cache; but instead of writing everything out here, I'm simply going to post links to Google's instructions.
Having said that, make sure you have a Google Webmaster account before diving into any of this and that you have authority to act on behalf of the website you're working with. Attempting to do so otherwise is called hacking and yes, it's a crime.
Likewise, this process takes several days (if not longer) so this is something you need to think about before it needs to happen. If you wait until a day or two before the pages need to disappear, you are pretty much out of luck.
Additional Considerations
Although conventional wisdom seems to dictate otherwise, Google isn't the internet's only search engine. Microsoft and Yahoo both offer similar types of cache searches as well as webmaster tools for removing content (both of which require user accounts):
To those in the know, these methods are far from the only options available for finding and/or removing content from search engines but they are among the more straightforward tools, which is why they are covered here.