With the exception of where concertmasters fell in the overall Top 10 earners, the 2009/10 season was a wholly unremarkable year for concertmaster compensation. Based on the figures available (which are fewer than executives or music directors, but more on that later), the average concertmaster experienced a marginal decrease of 1.9 percent in annual compensation.
AN IMPORTANT NOTE ABOUT CONCERTMASTERS COMPENSATION REPORTING
Due to the changes in the IRS Form 990, there are fewer concertmaster figures to report as compared to executives and music directors. Up until the 2008/09 season, nonprofit organizations were required to list a fixed number of employees who earned over $50,000/year, but the IRS increased that threshold to $100,000 for the 2008/09 season.
Perhaps unsurprisingly, quite a few concertmasters earning more than $50,000 but less than $100,000 no longer appear on their respective orchestra's From 990.
As a result, if you don't see a particular orchestra in the list, it most likely indicates…
…their concertmaster position was either unfilled for that season.
…the concertmaster earned less than $100,000 and was therefore not included in the filing.
…the concertmaster earned over $100,000 but because don't earn enough to be included in the threshold of maximum employees listed in the 990.
WHAT'S NEW FOR THE 2012 REPORTS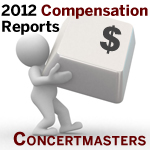 Although the reports cover the 2009/10 season, the orchestras which have liquidated and ceased operations since that time have been removed from the list (Honolulu, New Mexico, and Syracuse). If you're curious about data from those organizations from the 2009/10 season through when they went bankrupt, you can still find their respective 990's at guidestar.org.
Likewise, some groups were removed due to an increase in the minimum total expenditure threshold to be included in the reports. At the same time, those were replaced by new entries including Fresno Phil, Monterey Symphony, National Symphony, Orchestra Iowa, Portland (ME) Symphony, and Sarasota Orchestra. Of those, National has traditionally been filtered out due to difficulty with extracting some of the figures from the overall Kennedy Center data and Sarasota flew under the radar for a few years due to their branding change (they used to be Florida West Coast Symphony).
"Where did the musician compensation figures go?"
In short, this year's reports will not include that information. Detailed explanations are available in the series' introduction article and in order to help make up for that missing data, this year's reports will include compensation figures as well as the figures reported from the previous season. This should make it a bit easier for everyone to see dollar for dollar changes between seasons.
WHO IS THIS CONCERTMASTER PERSON?
For those not already familiar with the concertmaster position, this is the title reserved for the principal seat within the 1st violin section. More often than not, this is the musician you see walking out on stage at the beginning of the concert to initiate the orchestra's tuning process before the conductor emerges.
Although concertmasters are included within every orchestra's collective bargaining agreement, they also negotiate a separate contract with the orchestra detailing compensation and additional duties exclusive to their position. For example, it isn't uncommon for a concertmaster to be featured as a soloist with the orchestra at least once a year. As such, their annual income will fluctuate based on the number of solo appearances they negotiate with their organization.
Additionally, concertmasters are required to perform any of the numerous internal solos incorporated into any given piece of music (such as the famous violin solo from Scheherazade). Beyond actual performing duties, concertmasters (along with other principal seat string musicians) are usually required to perform additional duties such as bowings (which are markings placed throughout a string player's sheet music that indicate which direction to move the bow. This allows each section of strings to move their bows in unison and enhance to the sense of phrasing a conductor wishes to use.
A common perk associated with many concertmaster individual contracts are clauses excluding them from having to perform during some non-masterwork oriented concerts (such as holiday, pops, or educational concerts). As this clause is not uniform, the frequency and type of concerts concertmasters are excluded from participating vary from one musician to the next. It is also one of the reasons why orchestras may have one or two additional violinists within the orchestra who serve under the title of associate or assistant concertmaster.
Regardless of the additional clauses a concertmaster negotiates in their personal contract, they are afforded the same base workplace protection and representation guaranteed all musicians under the organization's collective bargaining agreement.
WHERE THE DATA COMES FROM
In order to provide information that is as accurate as possible, data from the 2009/10 season is gathered from the following sources:
Concertmaster compensation figures were obtained from their respective orchestra's IRS Form 990 for the 2009/10 concert season.
Total Expenditures were also obtained from each respective orchestra's IRS Form 990 for the2009/10 concert season (due to their relationship within a larger performing arts structure, Total Expenditure figures for National Symphony and Atlanta Symphony are unavailable and the figures here are representative approximations).
Adaptistration makes no claim to the accuracy of information from documents compiled or reported by external sources. If you have reason to believe any of the information is inaccurate or has changed since reported in any of the above sources and you can provide documentation to such effect, please feel free to submit a notice.
Did you know?
 Direct links to most of the orchestra's financial disclosure documents at guidestar.org are available in the 
Orchestra Financial Reports
.
WHAT THE NUMBERS DON'T SHOW
It is important to remember that the numbers shown do not always convey a complete compensation picture. For example, a concertmaster may have had a large increase in salary because they had twice the number of featured solo appearances for this season compared to last. Likewise, they may have left the position after the 2009/10 season and, per terms of their individual contract, received a sizeable severance or deferred compensation package. As such, the cumulative compensation reported under those conditions may artificially inflate or reduce annual earnings.
If a group isn't listed, it means their respective 990 did not include any concertmaster compensation information.
2009/10 SEASON CONCERTMASTER COMPENSATION

TOP 10 EARNERS
New York Philharmonic: $518,599
San Francisco Symphony: $518,197
Los Angeles Philharmonic: $476,854
Boston Symphony: $469,701
Chicago Symphony: $453,547
Cleveland Orchestra: $434,513
Philadelphia Orchestra: $403,151
Dallas Symphony: $333,575
Pittsburgh Symphony: $330,108
National Symphony: $315,955