There's a good article over at On An Overgrown Path that rails against arts organizations using Twitter in what might be best described as a myopic, self serving, unidirectional messaging system. The article served as a discussion point during last Sunday's SoundNotion.tv program and after watching it, I thought it ended up being one of the most useful segments for the field as a whole a couple of good reasons.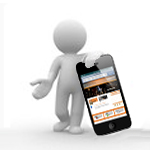 First, it reinforces the idea that one of the ways which Twitter works best is when it functions as a concert experience force multiplier; meaning, its ability to expand an experience to a larger group who isn't able to be there, and to do so in real-time. Ultimately, it can become a powerful patron empowerment tool if encouraged and given room to grow.
Next, the show's co-host, David MacDonald, had what I think is a genuinely great idea for someone with the time and skills (or funds to pay someone to do it) by way of addressing some of the immediate hurdles related to live tweets during concerts. Granted, these challenges are not insignificant but in the end, they are all problems that have solutions. In particular, phone backlights, keystroke sounds, unusual spellings, and more can get in the way of a productive and positive live tweeting experience.
The idea started off with co-host Nate Bilton suggesting smartphones have an operating mode that will adjust your phone settings automatically (like airplane mode) and from that, MacDonald came up with the why-didn't-anyone-think-of-this-earlier idea of creating a concert event Twitter client (not unlike tweetchat.com #artsmgtchat uses during its live tweet events).
You can follow that part of the conversation starting at the 1:02:54 mark but here some basic ideas that came out of the discussion as elements for a successful orchestra twitter client:
Dark background, high contrast graphic themes that project minimal lighting but with controls that are still easy to see and operate.
Umlaut shortcut keys (some folks are sticklers about that sort of thing).
classical music spell check
Client disables phone's camera flash and audio recording.
Client sets phone to mute and no vibrate
In the associated discussion about whether orchestras really need apps, this is a good example of where an app can provide far more added value than an optimized site in that it can (per user approval) adjust phone settings while in use. Consequently, the above checklist can be set in motion when the app is accessed.
At the end of segment I suggested a project such as this is ideally suited for someone like the Knight Foundation, which takes an active interest in classical music and media. In addition to providing the client service, crafting some usage guidelines (while steering clear of the insincere approach On An Overgrown Path
calls out), hosting, and basic user support is pretty much all the offering needs.