According to an article by Howard Pousner in the 8/8/12 edition of Access Atlanta, it looks like the Atlanta Symphony Orchestra (ASO) may join the Minnesota Orchestra and St. Paul Chamber Orchestra in the latest round of labor trouble. Pousner's article does an excellent job at providing a detailed overview of the ASO's recent financial history as well as some of the key points of conflict in the ongoing collective bargaining negotiations.
The overview is fairly straightforward:
The ASO's purports the organization can no longer sustain current spending levels and is seeking to reduce annual artistic expenses in the neighborhood of $3 million per season.
The ASO Players Association (ASOPA) believes the organization has yet to demonstrate how they intend to maintain artistic standards in light of proposed cuts and to offer up a package of concessions, but not nearly the degree management is pursuing.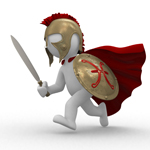 According to the article, current proposals from management include cuts to just about every aspect of artistic expenses including reducing the number of salaried musicians, cutting the weekly pay scale, cutting benefits, and reducing the length of their contract season but not the actual concert schedule.
There's all sorts of colorful language being tossed about on both sides. ASO president Stanley Romanstein was quoted saying "At the end of the day, we're playing Russian roulette with the future of the Atlanta Symphony" when asked about the need to cut costs.
Likewise, when asked how management responded to the musician counter-offer, ASOPA spokesperson Daniel Laufer was quoted saying "Management's response to the million-dollar-plus sacrifices the musicians have offered was simply to shrug and say, 'We have a long way to go.'"
All in all, there's nothing coming out of the ASO labor dispute that looks much different than what's going on in Minnesota and recently at orchestras in Philadelphia and Detroit.
But one aspect that may nudge this conflict in a different direction that the other examples is the ASO's relationship with its parent organization, the Woodruff Arts Center. Unlike the Detroit Symphony and Philadelphia Orchestra, which operate as independent 501(c)3 nonprofit organizations, the ASO is part of the Woodruff's 501(c)3.
Perhaps unsurprisingly, the ASO comprises a lion's share portion of the Woodruff's annual expenses (you can find the Woodruff's most recent financial reports here), but it certainly isn't the only expense the Woodruff must consider. As a result, keep an eye on this unusual variable as it has the potential to play out akin to a divorce proceeding in a ménage à trois relationship.