The always astute Joe Patti posted an intriguing article over at Butts In The Seats on 11/20/2012 that wonders about the value of liquidation bankruptcy on instituting new model type of change. Patti uses the ongoing Hostess liquidation saga in the face of employee's refusing to take additional concessions in the wake of a series of cuts since 2004.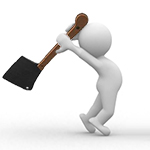 Patti speculates on the long term value of bankruptcy decisions; although they may appear to solve problems in the here and now, it may end up biting your organization in the ass down the road.
Have we trained people only to respond to dire predictions? Or perhaps they have trained us that they will only respond to appeals couched in those terms.

Bankruptcy and tales of woe really isn't the most constructive way to develop a relationship and confidence from your community. It impacts credibility and people soon become inured to news of financial crises.
One of my genuine fears about the Season of Discontent and the rash of bankruptcies and extended work stoppages is the formation of a new attitude among a generation of arts managers, boards, and musicians who see these tools as some sort of new normal for labor relations.
Can you imagine any field capable of enduring boom and bust cycles based on that sort of attitude? It's this sort of thinking that gets you thinking whether it wouldn't be better for the entire field if situations where groups faced with a prolonged and bitter work stoppage and/or a questionable bankruptcy should jump right to liquidation. No muss, no fuss.
Think of it like the scene from the Season 3 premier of AMC's The Walking Dead where [SPOILER ALERT] following a zombie bite to the ankle, Rick had to cut off Herschel's leg in order to save him from turning into a zombie. It was far from pretty and certainly not an easy decision (especially since it had not been established as an effective solution), but it did save Herschel's life.
So would the field, as a whole, benefit from adopting a similar strategy? Sure, there will be plenty of questions, second guessing, etc. but would it be better for the classical music body if the infected limb(s) were removed?
What do you think? Mull it over while watching that scene from The Walking Dead. Warning: not for the squeamish (seriously, this is an intense scene) and most definitely NSFW. You've been warned.