Maybe it's the approach of the holiday gift giving season, but I felt compelled to crack open my consulting document vault (which is usually closed to all but paying clients) and put together all of the Minnesota Orchestra Association (MOA) IRS Form 990s I have on file into a single downloadable file.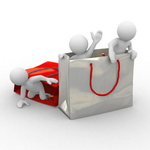 Given the recent events uncovered in Graydon Royce's Star Tribune article from 11/26/12 and growing armchair analysis throughout online outlets, it seems appropriate to provide this sort of transparency to any interested party.
Although there are a few gaps (98-99 and 07-08), you'll find each one of the MOA's IRS Form 990 from the 1997-1998 through 2010-2011 seasons together in one convenient 19MB pdf file.
A Little Experiment On Motivation & Social Sharing
The last time an otherwise unavailable document was shared with Adaptistration readers (the Minnesota Orchestra Redline Agreement), I tested a new social share wall feature that required users to engage in a social network action before being able to download the file.
I want to compare that data against an honor system approach by simply asking any reader downloading the file to share this post, before initiating your downloading, through any one of the social network share icons at the end of the article.
Since the numbers of downloads and social shares for both efforts can be measured, I'm very curious to see which method produces the best download to share ratio. In short, is it better to require social action to access special data or will the honor system prevail?
I'm hoping the latter will triumph but regardless of what the metrics uncover, the results will be posted at the end of the week.
Sorry, this download is no longer available.