Prophecy seems to be all the rage right now. All the cool kids are doing it and perhaps one shouldn't be too cynical; after all, focusing on the future isn't all that terrible of a defense mechanism during tough times.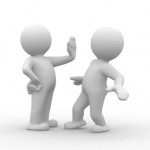 On the other hand, it can just as easily fuel paranoia to a point where it deceives you into creating a false definition of your reality, thereby making it that much more difficult to adequately identifying and managing problems in the here and now. And walking down that path is a terrific way to becoming a victim of self fulfilling prophecy (SFP).
But amid the rising tide of prognostication, there is one recent contribution you may find useful in that it manages to circumvent the whole SFP bear trap while simultaneously offering up some useful insight (not to mention a high degree of likelihood for putting a smile on your face).
You'll find it in the 12/19/12 of You've Cott Mail (YCM), Thomas Cott's exceedingly useful electronic 'clipping service', which included a number of contributions following Cott's call for 2013 predictions.
In 2013, too much time will be spent on how to sustain the arts
Jane Sarther, College of DuPage [Glen Ellyn, Illinois]
Prediction: Much time, energy and money will be spent prophesying how to support/sustain arts organizations, when the reality is we should just do what we already know (mission driven organizations that serve the community and arts). And if the organization cannot sustain its mission, then the organization shouldn't exist!
What she said.
As an aside: For my money, YCM has easily supplanted Arts Journal for being the most useful resource for daily arts news. Cott not only comes up with a steady stream of theme oriented mailings, he regularly pulls contributions published across a terrific landscape of culture outlets with same day relevancy alongside chestnuts from weeks prior that he apparently keeps roasting in his mind for just the right moment. It's simple, reliable, and inclusive. What more could you want?
Damn The Torpedoes, Full Foresight Ahead!
If Sarther's predication leaves your soothsaying Jones unsatisfied, no problem, Musical America has got you covered with an entire section from their latest Special Report dedicated to predictions stretching all the way out to 2022. Perhaps unsurprisingly, the most worthwhile contribution in the entire group is from none other than the always sharp Alex Ross.
I'm reluctant to make predications. I would not want my prediction of where things are headed to prevent me noticing something else.
In case you missed it, that's a very Alex Rossian (i.e. diplomatic yet direct) way of saying he doesn't want to get bitch slapped by falling victim to self fulfilling prophecy.
Ultimately, finding strength during tough times by means of visioning can be a useful coping mechanism but there's a fine line between that and planting the seeds for a self fulfilling prophecy.