Although James R. Oestreich's article in the 2/6/2013 edition of the New York Times doesn't provide any new information to those already up to speed with the Minnesota Orchestra Association (MOA) labor dispute, it does provide a somber reminder that the entire debacle is wearing thin.
It has grown increasingly clear that this dispute has become more about the fight than the mission (which, ironically, is one of the disputed contract items); every time a bit of potentially positive news emerges, it turns out that it was nothing more than the latest round of brinkmanship.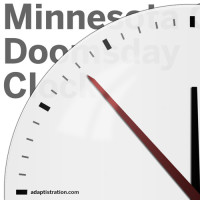 Unfortunately for the MOA, brinkmanship isn't a zero-sum game and the more they drag out the tactics of attrition warfare, the closer they move toward midnight on their very own doomsday clock. In this instance, doomsday is marked by organizational collapse and subsequent liquidation bankruptcy.
The recent Grammy nomination celebration concert was well received but what should have been a profound waypoint in the standoff, not to mention an opportune vehicle for both sides to save face, doesn't appear to have had much impact on facilitating resolution.
Having followed the situation since before hostilities went public, this event is enough to move the clock up to seven minutes before midnight, which marks the first time since hostilities began where the organization is closer to doomsday than not. And unlike regular clocks, this one moves faster the longer this labor dispute continues.
IMPORTANT UPDATE 2/8/2013, 2:10pm CT
The Minnesota Orchestra Association released a statement this morning announcing additional event cancellations through April 7, 2013. Four programs are completely cancelled while four will possibly be rescheduled; the former are all masterworks level concert events:
Beethoven's Eroica,  February 27 and 28, March 1 and 2
The Gershwins' Here to Stay, March 9 and 10
Strauss: Four Last Songs, March 14-16
Josefowicz Plays Stravinsky, March 21-23